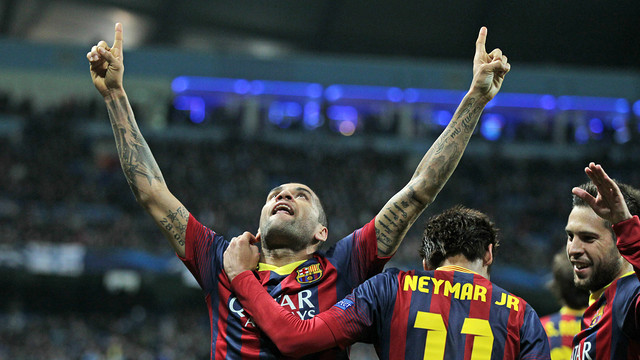 Barça get great win at Manchester City with goals from Messi (penalty) and Alves
Barça took a massive step towards the Champions League quarter finals tonight with a 0-2 win against City at the Etihad Stadium. A disputed penalty and red card for Demichelsis on 53 minutes put an end to what had up to then been a cagey affair, as City desperately pushed to get back into the game, only to fall two behind when Alves scored the second late on.
Manchester City surprisingly came out rather timidly, ceding possession to Barça, who, playing with Iniesta wide left and Messi as a false number nine, flooded the midfield, whilst the hosts stuck men in a high defensive line. After 15 minutes though, City came out of their shell and began to threaten.
Silva's magic lifted City setting up a chance for Negredo on 19 minutes and forcing a good stop from Valdes with a free kick five minutes later, as City pushed forward and pinned Barça back for ten minutes or so before Barça wrestled possession back, as the midfielders looked for Alexis' diagonal runs. City looked to high balls up front for Negredo and the game became more feisty ,with cards and penalty claims coming fast and thick, as the tension mounted in the final few minutes before the break,
Penalty and red card

The key moment of the game, and maybe of the whole tie, came on 53 minutes when Busquets and Alba won a ball in midfield from Navas and Iniesta slipped Messi in on goal. Demichelis was beaten for pace and could only bring Messi down as he hared in on Hart's area. The ref had no doubt in pointing to the spot and showing the City defender a red and Messi was equally decisive in putting away the penalty. The hosts now had to rethink and Pellegrini was quick to shuffle his pack, bringing on Lescott and Nasri for Kolarov and Navas.
With Barça looking to slow down the game and conserve their advantage by holding onto possession, City drew on their pride and with the fans getting behind them, tried to get back into the game, but that left space at the back and Xavi and Alves very nearly made them pay dearly for their efforts.
Valdés made a great save from Silva on 76 minutes to snuff out City's best chance as the hosts made a last push to get something out of the game, but it was Barça who took the prize, with Dano Alves played a neat one-two with Neymar (who'd come on for Alexis on 72 minutes) and fired low under the City keeper's legs to make it 0-2 and ensure Barça go into the return leg at the Camp Nou in three weeks a s firm favourites