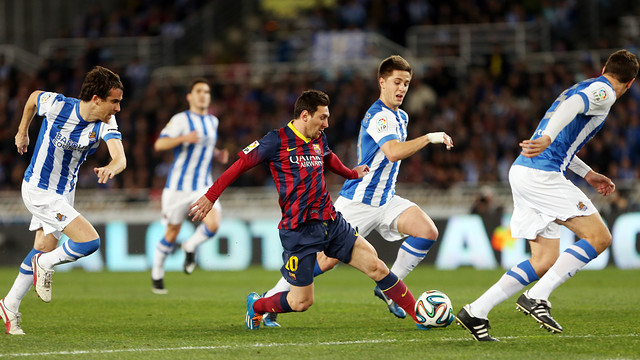 8.00 PM CET, GolT and Canal + Liga: The Basques, sixth in the table, entertain a Barça side that can't afford to drop any points at Anoeta
Jordi Alba, with a hamstring injury, misses the game
It's back to the league, and there's no room for error. This evening (8.00 PM CET, Gol T and Canal + Liga), Barça are away to Real Sociedad. Tata Martino's side are top of the league, but only on goal difference ahead of both Atlético Madrid and Real Madrid, and can't afford any setbacks at a stadium where they haven't won since 2007. Only Barça at their best will do, for anything less than three points from this trip to Anoeta would most probably see them lose top spot in the table.
Barça are without Jordi Alba, who has a hamstring injury, and also the dropped Puyol, Afellay, Oier, Cuenca and Sergi Roberto. As their manager said in his pre-match press conference, "on Saturday it would be imprudent to perform badly at Sant Sebastian. We are going there with the intention of playing a good game and getting the three points." Beating the side that is doing so well under Arrasate this season is no easy task, but is as obligation at this stage of the championship.
The worrying thing is that we have to go all the way back to 2006/07 to find the last instance of FCB winning away to Real Sociedad. That was when the first team was coached by Frank Rijkaard, and Barça won 2-0 thanks to goals from Iniesta and Samuel Eto'o. The Basque side did spend three years in the second division after that, meaning Barça didn't play them during that period, but since they have been back in the top tier, four league and cup fixtures at Anoeta have ended in two draws and two defeats.