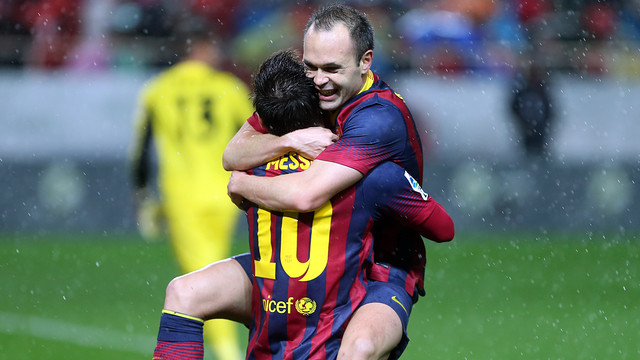 8:45 PM CET – City and Barça kick off the first leg of the Champions League Round of 16 at the Etihad
The English side will feature in their first ever Champions League knock out round, while the Blaugrana have made it to the semi-finals for six consecutive years
Lots has been said about the tie against Manchester City since December, when the draw for the Champions League knock out round took place. It's likely the most attractive match up of the round as the ambitious English project goes up against the consistency of the Catalans, who have made it to the semi-finals of the competition for six consecutive years. The two teams share an enormous capacity for scoring goals and, with the arrival of Pellegrini to City's bench, an inclination for attacking football. The big day is finally here.
Barça come into the match close to the level of play that they were hoping for. In their last three matches, against Sevilla, Real Sociedad and Rayo, Barça garnered results and played at a level that encourage optimism. In addition, Martino has nearly all of his players at his disposal. Only Cuenca and Dos Santos didn't make the trip from Barcelona. Neymar made his return to the team on Saturday, and played for nearly 30 minutes against Rayo.
Manchester City, on the other hand, are set to feature for the first time in this round of the competition. However, that doesn't mean that the English side aren't experts in their trade. In a relatively short amount of time they've singed Kompany, Touré Yaya, Silva, Navas, Negredo… indeed, they are a team full of starts, and many of them have played in Spain. Manuel Pellegrini won't be able to call on Sergio Agüero, and Fernandinho, who is crucial to Manchester City's midfield, is doubtful.
This evening the two teams will try to get a good result ahead of the second leg at the Camp Nou. It could prove crucial if the Blaugrana manage to score at the Etihad. This evening, goals are worth their weight in gold.