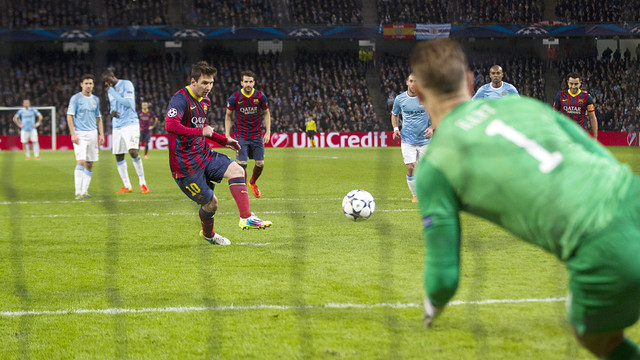 The Argentinian forward has scored in six goals in four matches, it's his longest goalscoring streak of the season so far
Messi also scored for the first time in a two-leg tie in England

Leo Messi is enjoying his best goalscoring streak of the season. With this evening's goal at the Etihad, the Argentinian took his scoring streak to four consecutive matches. The player's crusade on Barça's opponents started with two goals away to Sevilla (Liga), then another at the Anoeta (Cup) followed by two more goals against Rayo Vallecano (Liga). In Manchester he added to the streak by scoring the opener against City in the Champions League.
Up until now, Leo Messi had scored in three consecutive games this season. It happened in September against Valencia, Sevilla and Ajax, before he picked up his thigh injury.
11 goals in 2014
Barça's No.10 has netted a total of six goals in Barça's last four matches, and since the start of the calendar year, he's scored 11 times. In total, the player has netted 25 goals this season in all competitions.
The goal against Manchester City also sees Messi do away with a pending assignment: score in a two-leg tie in England. Up until now, his only goal on English soil was in the Wembley final in 2011, against Manchester United.