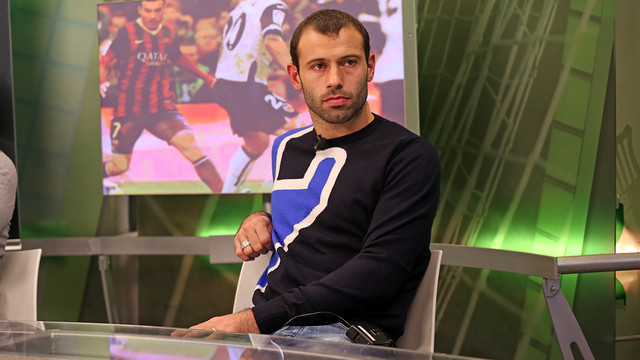 The Barça central defender was auto-critical following the defeat against Valencia, but stressed that the team have to get their heads up and carry on fighting for the 3 titles at stake
"The margin of error from now until the end of the season is practically zero. Now it's us who have to push on" the Barça number 14 said
He's a player who speaks his mind and this Saturday was no exception. Javier Mascherano appeared on the program 'El Marcador' on Barça TV and explained the feelings from the dressing room: "It hurts a lot to lose the 3 points at home. It's possible that we won't stay top but there are still 16 matches left and we have to change things so that what happened on Saturday won't happen again". "We should have been two or three up after half an hour. The last 10 minutes of the first half and all of the second, things were different. We lost our shape and it really showed" he added.
Mascherano didn't want to look for excuses and wanted to show that he has total confidence in the team: "We still have to play our two closest rivals. It's clear that the margin of error from now until the end of the season is practically zero. Now it's us who have to push on. We have to improve things but not send out negative messages. It's all in our hands, and we still have a chance in all three competitions". That's why Mascherano stressed that the players have to get their heads up and be positive.
[[CITA_1]]
Finally, when asked about the atmosphere in the dressing room on Saturday, Mascherano stressed, once again, the team's winning mentality: "We are all winners, and when we lose we feel bad. It's important that it hurts. In a team that wants to win things it should hurt to drop any points. From Monday on we'll be in the right frame of mind". Now they have to start preparing for the Cup match this Wednesday at the Camp Nou, against Real Sociedad.
We are all winners and when we lose we feel bad. It's important that it hurts.