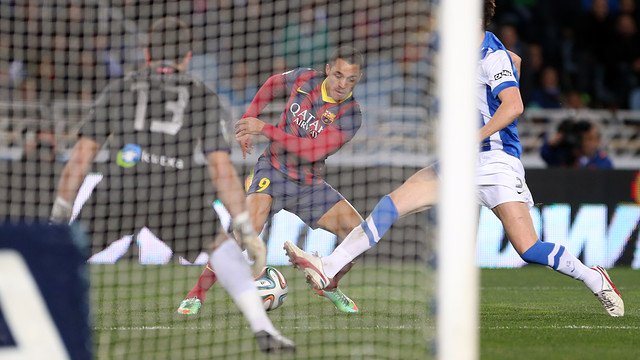 Barça have not won away to Real Sociedad since the 2006/07 season, when under Frank Rijkaard, FCB won with goals from Iniesta and Eto'o
Since the Basques returned from the second division, Barça have drawn twice and lost twice
Arrasate's side is unbeaten at home since September 1 when Atlético Madrid ended a 10-month spell without defeat
FC Barcelona visit Anoeta on Saturday ten months after knocking Real Sociedad out of the Spanish Cup. That game ended in a draw and further extends the Catalans' winless streak away to the Basques. Since the 2010/11 season, when Real returned to the top flight, Barça have not won once at Anoeta. That year, under Guardiola, the side from San Sebastian cancelled out Thiago's opener with goals from Ifrán and Xabi Prieto. In the 2011/12 season, Barça also got off to a winning start with goals from Xavi and Cesc in the space of a minute. But Agirretxe and Griezmann managed to pull the home side back level at 2-2. Last year saw another Real comeback after Barça had gone two-up through Pedro and Messi, but Real ended up winning 3-2 with two goals from Chori Castro and another from Agirretxe.
In the recent Spanish Cup semi-final second leg, also played at Anoeta, the game ended 1-1 with the goals scored by Messi and Griezmann. That makes for two draws and two wins since Real returned to the first division. The last Barça away win at Real Sociedad was in the 2006/07 season, 2-0 with goals from Iniesta and Eto'o.
Three losses this season
But Anoeta is not only a difficult journey for FC Barcelona. This season, Atlético Madrid, on September 1, is the only team to win there – and that win put an end to a 10-month spell undefeated at home.
At home, Real's record is 7 wins, 3 draws, 1 defeat, 27 goals for and just 7 against in 11 league games. In other competitions, Real also have a strong record. In the Cup, they made it to the semi-finals, and went out of the tournament without losing a single game at home. In the Champions League, however, they lost at home to both Shakhtar Donetsk (0-2) and Bayer Leverkusen (0-1) and were held to a goalless draw by Manchester United.