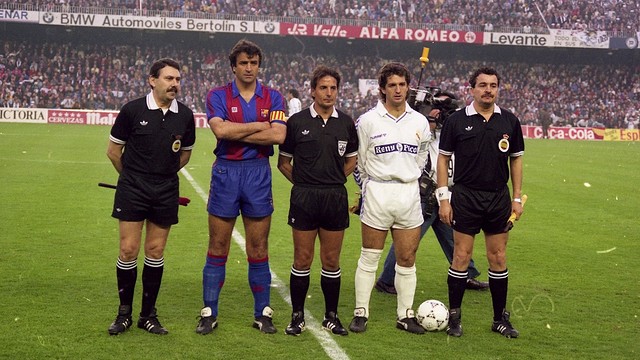 The two sides have met in six previous cup finals, and the games have always produced plenty of talking points
The clashes happened in 1936, 1968, 1974, 1983, 1990 and 2011, and the overall balance is three wins each
21 June 1936. Real Madrid v FC Barcelona (2-1)
– This final was played just before the outbreak of the Spanish Civil War, and the main protagonist was goalkeeper Ricardo Zamora. With just four minutes to go and Madrid winning 2-1, Zamora, who was playing his last ever game as a professional, made an incredible save from a powerful and perfectly placed shot by Escolà. The Barça fans were already leaping for joy when the Real Madrid stopper got his hand to the ball right on the goal-line and prevented FCB from equalising.
11 July 1968. Real Madrid v FC Barcelona (0-1)
– The infamous 'Bottles Final'. At the Santiago Bernabéu, Barça played a serious game with some solid defending against a Madrid side that was uneasy ever since going down to a sixth minute own goal from Zunzunegui. Try as they could, the all-whites couldn't find a way past Barcelona keeper Sadurní. The game ended with sorry scenes as the Madrid fans started throwing glass bottles at the Barça players.
– After the game, the wife of a governmental minister congratulated the Barça president Narcís de Carreras by saying "I congratulate you because Barcelona is also Spain, isn't it?" Carreras answered with the words "Madam, you must be joking!"
29 June 1974. Real Madrid v FC Barcelona (4-0)
– In the 1973/74 season teams could play no more than two foreigners at any time, but no foreign players at all were allowed in cup matches. Barça suffered more from missing Cruyff and Sotil than Madrid did from the absences of Netzer and Mas. This, and tiredness at the end of a long season, was largely to blame for the game ending in a clear 4-0 win for Madrid.
4 June 1983. FC Barcelona v Real Madrid (2-1)
– Diego Armando Maradona, the big Barça star of the era, demonstrated his finest abilities in the 32nd minute with a wonderful assist to set up Víctor's opener. But a 50th minute mistake from Gerardo allowed Santillana to equalise.
– It all looked like it was heading for extra time when Julio Alberto crossed to Marcos, who slammed the ball spectacularly past Miguel Ángel. The goal that won the cup for Barça.
5 April 1990. FC Barcelona v Real Madrid (2-0)
– This game was particularly rough on the field and produced passion on the terraces. Madrid's Fernando Hierro was sent off after 45 minutes for a second bookable offence, and Barça made the extra man count with second half goals from Amor and Julio Salinas.
– The league season hadn't gone too well for Johan Cruyff and his team, but that cup win was the spark that lit the fire of the glorious period of the Dream Team, which won four consecutive league titles as well as the club's first ever European Cup at Wembley.
20 April 2011. Real Madrid v FC Barcelona (1-0)
– Barça lost this highly intense final with Real Madrid, which involved a first half in which Guardiola's side failed to produce their famous passing game, and a second in which Casillas came to the rescue of Real Madrid, sending the game into extra time, where it was ultimately decided by a Cristiano Ronaldo goal.
– A week later Barça, made up for the disappointment with a 2-0 win at the Bernabéu in the semi-final of the Champions League. The 1-1 draw that followed at the Camp Nou meant FCB were going to Wembley, where they'd win yet another European crown by beating Manchester United 3-1 in the final.