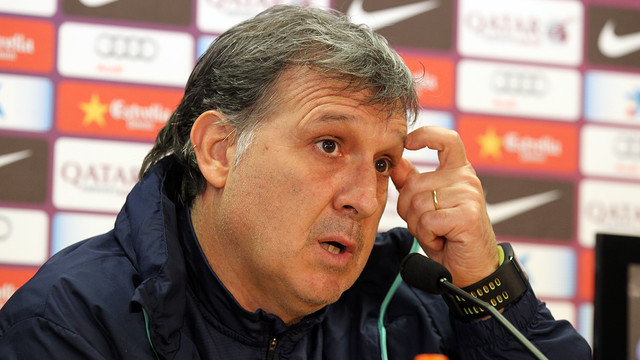 The FC Barcelona manager admires his equivalent on the Rayo Vallecano bench, especially for his daring approach to football
Manchester City are not yet his main concern. "Rayo will be a difficult game and we have to win to hold on to our lead" he insists

The Camp Nou welcomes Rayo Vallecano on Saturday, a club that out-possessed FC Barcelona earlier this season. Although Barça ended up winning 4-0, the Madrid-based club did a lot to impress FCB manager Gerardo Martino, who told his press conference today that "Paco Jémez seems a very brave coach to me. I am admirer of all coaches that take the initiative and go out and create things, especially when working with what is not the richest of squads".
He added that "he has shown enough character to continue using the same methods despite his team's position in the table. He's a manager who is convinced of his own methods".[[CITA_1]]Martino repeated several times that this Saturday's game is a huge matter, and he refused to be distracted by questions about the upcoming Champions League clash with Manchester City. "I'm not worried about that yet" he insists. "We are perfectly focused on the game with Rayo … It hurt us a lot to lose top spot against Valencia and it was very hard to win it back against Sevilla … Now it's important for us to continue to win and stay in first place, but this is going to be a difficult game".[[CITA_2]]Asked about Neymar, who was declared fully fit on Friday morning, the FCB manager said that "he has trained hard and his recovery has gone very well. He is clearly enjoying himself in training. Now we have to see how he responds against opponents".
The manager also spoke about Xavi, who has been dropped for the Rayo match. "We have decided to leave him out, and that was why he was in in the gym today" he explained. The midfielder has featured in all four of FC Barcelona's most recent outings.
It hurt us a lot to lose top spot against Valencia and it was very hard to win it back against Sevilla
Neymar has trained hard and his recovery has gone very well. He is clearly enjoying himself in training