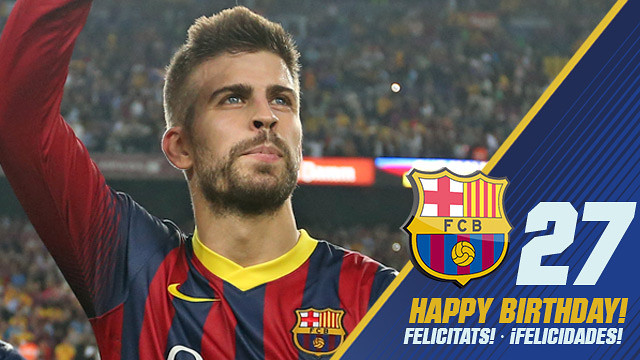 This Sunday, February 2nd, Gerard Piqué turns 27 years old. The centre back has featured for FC Barcelona a total of 250 times
Gerard Piqué turns 27 years old this Sunday. The FC Barcelona centre back was born on February 2nd 1987 and he was made a Club member just hours after his birth. Piqué started playing football at the age of 10 in FC Barcelona's youth academy. At the end of the 2003/04 season, he packed his bags and signed for Manchester United and then with Zaragoza. He returned to the Camp Nou in the 2008/09 season.
Since his return to Barcelona, Barça's No3 has won a huge amount of titles. He's secured 4 Ligas, 2 Champions Leagues, 2 Copas del Rey, 2 European Super Cups, 4 Spanish Super Cups and 2 Club World Cups. In addition, with Manchester United he won the Premier League, the Carling Cup, the Champions League, and with Spain he's conquered the World Cup and the European championship.
In his six seasons with the first team, Piqué has been a near permanent starter for Pep Guardiola, Tito Vilanova and Tata Martino. At the start of 2014, in the Barça-Elche match (4-0), Piqué played his 250th match in the Blaugrana strip. He also scored Barça's 1,000th goal in international competitions when scored against Celtic in the group stage of the Champions League.