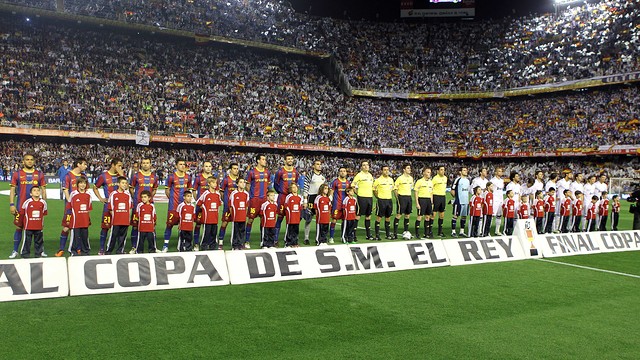 The Kings of the Cup have lifted the trophy on two of the last five editions (2009 and 2012)
Barça will play their 37th Spanish Cup Final, and their seventh against Madrid, with three wins each in the last six matches
FC Barcelona have classified for the Spanish Cup Final, after knocking out Real Sociedad. On April 19, Tata Martino's team will try to win their 27th Spanish Cup Final in the history of the Club and reaffirm themselves, even more, as the team that have dominated this competition. Barça will play their 37th Final against Real Madrid, who beat Atletico de Madrid in the other semi-final.
Barça's reign in the Spanish Cup is historic. After classifying for the Final of the knock-out tournament once again, Barça will go into their fourth final in the last six years. In the 2008/09 season they became Champions against Athletic Club Bilbao in Mestalla (1-4), in 2010/11 they lost to Real Madrid, in extra time (1-0) and in 2011/12 they repeated their triumph over Bilbao at the Vicente Calderón (3-0). In these last six years they only failed to reach the Cup Final in 2010, when Sevilla knocked them out in the last 16 round, and last season, when they lost to Real Madrid in the semi.final.
Seventh Final against Madrid
So, Barça once again will face Madrid, two years after the last Cup Final played against each other. In the six Barça v Madrid finals, each team have won 3 times. The first Clasico in a Cup Final goes back to the 1935/36 season, and the latest, the 2010/11 season. Curiously, both Finals were played in Valencia. On April 19th the equality will be broken.
| | | |
| --- | --- | --- |
| Season | Cup Finals | Result |
| 1935-36 | R.Madrid v FC Barcelona | 2-1 |
| 1967-68 | R.Madrid v FC Barcelona | 0-1 |
| 1973-74 | R.Madrid v FC Barcelona | 4-0 |
| 1982-83 | FC Barcelona v R.Madrid | 2-1 |
| 1989-90 | FC Barcelona v R.Madrid | 2-0 |
| 2010-11 | R.Madrid – FC Barcelona | 1-0 |