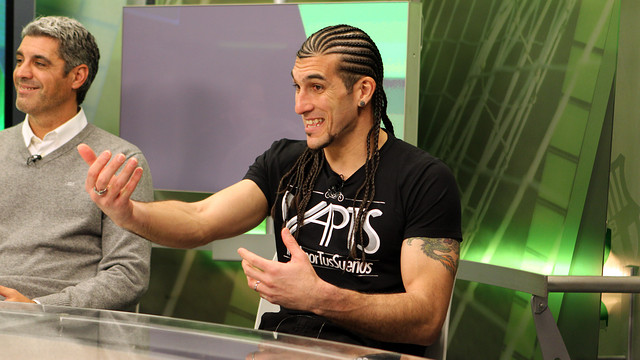 Pinto told Barça TV "we still have to go there and finish the tie off"
Admits good luck in two great stops against the Basques.
José Manuel Pinto certainly doesn't think Barça are guaranteed a spot in the Spanish Cup Final after their 2-0 win in the first leg of the semi-final against Real Sociedad on Wednesday night and speaking after the game to the Barça TV programme 'El Marcador', he warned: "sure, we have a slight advantage and not conceding was important, but we still have to go there and finish the tie off. At Anoeta they always make things tough for you". Certainly Barça didn't get an easy ride in San Sebastian earlier this season in the league, when they suffered their first defeat of the campaign(3-2).[[CITA_1]] Pinto also reckoned: "I was lucky with the two saves I made – the team as a whole did well to limit their chances", but refused to be drawn into the controversy over Mascherano's possible penalty on Vela: ·I was just concentrating on covering space and I had my eye on the ball".
Pinto also insisted on putting Saturday's defeat against Valencia into context: "I think that too much has been read into it. There're still a lot of games to play and we need to continue believing in our possibilities".[[CITA_2]] As to his own future, Pinto – who has yet to renew his contract – explained: "I every year, my future is unknown – since I came here I decided to just enjoy the moment. The only thing I can do is to work hard so that I am 100% when the boss needs me".
Sure, we have a slight advantage and not conceding was important
There're still a lot of games to play and we need to continue believing in our possibilities