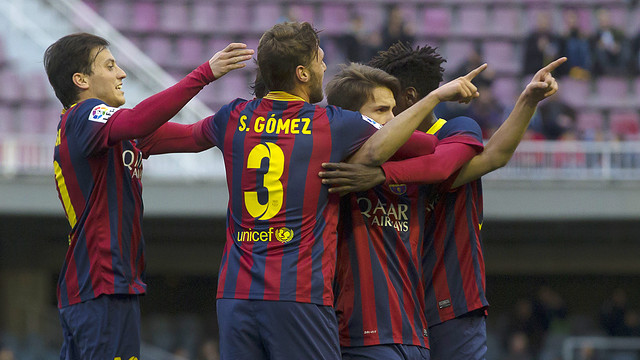 Goals from Denis Suárez in the first half and Dani Nieto in the second earn Barça B the three points at the Miniestadi
MATCH FACTS
FCB B, 2
CD Tenerife, 0
FCB B: Masip, Sergi Gómez, Planas, Dongou (Sandro, min 86), Espinosa, Bagnack, Samper, Denis Suárez, Lucas, Edu Bedia (Dani Nieto, min 70) and Adama.
CD Tenerife: Roberto, Bruno, Íñigo Ros (Cristo Martín, min 67), Chechu N. (Suso, min 64), Carlos Ruiz, Aitor Sanz, Javi Moyano, Edgar, Raúl Cámara, Ayoze and Rivero (Juanjo, min 45).
Goals: 1-0 Denis, min 25; 2-0 Dani Nieto, min 75.
Referee: Santiago Jaime Latre
Barça B once again won at the Miniestadi thanks to a solid performance against Tenerife. Two individual plays from Denis Suárez, who scored from a free kick, and Dani Nieto secured the three points for the Blaugrana. Tenerife could have equalised through Ayoze, but Barça's defence stood firm.
On-form Denis
When you come up against a defensive team, individual skill becomes very important, and Barça B have plenty of that. Denis Suárez won a free kick on the edge of the area and in the following play he sent the ball beautifully into the back of the net. It was the player's fifth goal in the last six matches, which brings his tally level with Dani Nieto's, the team's highest scorer this season.
The goal forced Tenerife to come out of its shell, and the islanders started to put pressure on Barça B's defence. Eusebio Sacristán's men dealt with the pressure well and they continued to dominate the pace of the match thanks to a spectacular performance from Samper. A combination from the midfielder with Espinosa nearly doubled Barça B's lead, but the attempt didn't end in a goal. The team's went to the break with 1-0 on the scoreboard.
More pressure and Tenerife nearly equalise
Tenerife started off the second half with the clear intention of drawing level, and it forced Barça B to cede ground. Tenerife enjoyed two great chances to score, but neither of Ayoze's attempts ended in the tying goal.
Barça B soon wrestled control away from the visiting side, and Dani Nieto stepped up to make it 2-0. Barça B's No.20 was brought on from the bench and after a brilliant individual play he doubled Barça B's lead on 75 minutes. Tenerife tried to fight back, but Masip was unbothered in goal.