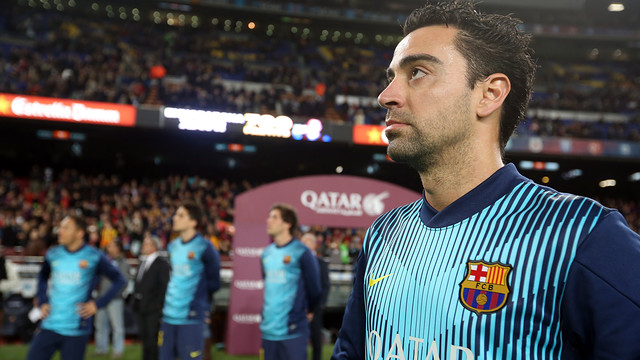 Leo Messi tells the BBC that he wants to win it all with Barça and Argentina, and Xavi tells The Sun says he'll never play in England
"I want to win it all"
"I'm happy with my current form and slowly but surely I will be getting there to hopefully peak at the right time of the year," said Lionel Messi to the BBC on Friday. "I hope this could be a great year not only for me but also for Barcelona and for Argentina."
"Every season is a new challenge," continued Messi. "With Barcelona we always play for major honours and we are always asked to win them all … I still have a lot to learn and a huge deal to improve."
[[CITA_1]]
The FC Barcelona forward then went on to talk about the upcoming World Cup: "I think it arrives at a good time for Argentina. We have grown as a team on and off the pitch. We have a great bunch of lads that love to play for our country. I think we will get to Brazil in a great shape and with all the chances in the world.
"It will be extra special, well above all the other World Cups – it is in Brazil, with everything that means for us. Our supporters will be there in their thousands and with them behind us I'm sure we can achieve something very, very special.
He concluded: "I hope to keep performing at a high level all the way to the World Cup because we have a lot to play for with Barca, with a hard tie in the Champions League, and a very hard La Liga and Copa del Rey to deal with."
Read the BBC article in its entirety here.
"Barça are my first, second and third option"
"There was always talk United or Chelsea or City and Arsenal wanted to sign me but never anything concrete," said Xavi Hernández in an interview with The Sun. "My thinking was always clear. I am such a Barcelona fan, so my first, second and third option is always Barca."
"I want to be here forever," declared FC Barcelona's vice-captain. "If I am not at Barcelona, I will always be thinking of Barça. If I had played for City, United, Arsenal or Chelsea, I'd keep asking what is going on at Barça – my club."
[[CITA_2]]
He added: "All the big English clubs know getting Xavi is impossible. They know Xavi is a fan of Barcelona, he won't come. I've no regrets at all, but I still think at times that I would have loved to play in England. You 'live' football over there.
"People respect you more. It's more difficult to find respect in Spain. There is more criticism here. In England, a player who's won many things is more respected than in Spain. It's not happened because my dream, my feeling and my idea was to be at Barcelona. Forever."
Read The Sun article in its entirety here.
I still have a lot to learn and a huge deal to improve
My thinking was always clear. I am such a Barcelona fan, so my first, second and third option is always Barca