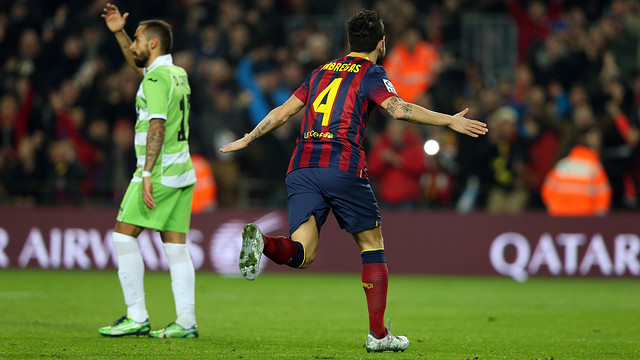 FourFourTwo analyses Cesc Fàbregas' evolution since his arrival to FC Barcelona from Arsenal, and Mundo Deportivo recalls Xavi's ascent to stardom under Luis Aragonés
"Under new coach Tata Martino, Fabregas is having his best season at Camp Nou and has emerged as one of the new manager's key players," writes Jonathan Fadugba for FourFourTwo.
To make his point, the journalist cites a recent interview with the Guardian, in which Cesc notes that "on the first day – well, not the first day, but maybe the third or fourth, early on – he called me over and told me: 'I want you to be the player you were at Arsenal.' And I thought: 'Wow!', because I'd always felt so good at Arsenal, so important. I'm not the No.10 exactly because things aren't so clearly defined positionally as with Pep [Guardiola] and Tito [Vilanova], who were very focused on that. When we attack, Tata likes things to be a little more anarchic – just a little – which means that with the ball you can move away from a set position without any problems."
Under Martino "Fabregas can roam free, dropping deeper to involve himself in play and getting further forward when Barca have possession to both create and score goals," observes Fadugba. "His runs and where he receives the ball are reminiscent of the old Arsenal days, with greater variety in the areas he collects the ball and more chance to be 'anarchic'."
According to the journalist this has resulted in "more goals, more assists, a key passes per game ratio somewhat closer to (but still not as good) as the numbers he managed in his latter days at Arsenal."
Fadugba has a point. Cesc leads the Spanish league in assists (10 from 20 matches), and he's scored a total of 12 goals in all competitions. To put that into perspective, Fadugba points out that Cesc has "one less [assist] than he managed in 30 starts last season and as many as in the entirety of this first season at [the] Camp Nou – and his seven league goals (12 in all competitions) have been a contributing factor to Barcelona currently topping the table."
Read the complete FourFourTwo article here.
The day Luis Aragonés decided Xavi would be a protagonist
"Barça and the Spanish national team started to have better days when Luis Aragonés decided that Xavi Hernández would become a key player," says Mundo Deportivo. The Catalan midfielder made his debut for Spain under José Antonio Camacho in 2000, and continued to feature for the national team under Iñaki Sáez, but he really came into his own when the late former FC Barcelona manager took the reins of La Roja in 2004.
"The culmination of the project took place on June 29 2008. On that day Spain defeated Germany in the final of the Euro Cup," says the Catalan daily. "He assisted Fernando Torres in the goal that decided the match and he was selected by UEFA as the best player of the tournament.
"Luis had a lot to do with the rebirth of the most decorated player in Spanish football. In fact, Xavi has always claimed that the two managers that have had the most influence in his life are Pep Guardiola and Luis Aragonés."
Mundo Deportivo recalls a recent interview with Panenka magazine, where Xavi recounts one of his first interactions with Aragonés:
"He called me up [to the Spanish national team] in September. There he was, at the Ciudad Deportiva – Las Rozas. When he saw me he said: 'What did you think? You thought this old son of a bitch wasn't going to call you up, eh?' I, of course, said: 'No, no, I never thought that.' Aragonés responded: 'Yes, yes, yes, come on, get in and we'll talk later.' He was like that: he made you laugh, he grabbed you by the collar, lifted you up, and you left feeling motivated."
Read the complete Mundo Deportivo article here.