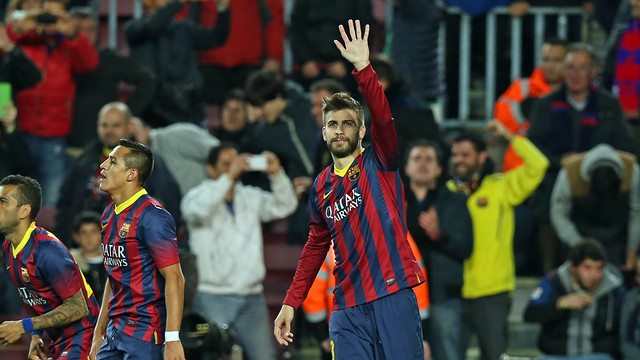 Gerard Piqué and Yaya Touré open up about the showdown between FC Barcelona and Manchester City in the Champions League
CanCity – Manchester City's app for Barça fans
Manchester City have released a new smartphone application explicitly for FC Barcelona fans who are planning to travel with Tata Martino's team to England. The application "has all of the information visitors need to make the most out of their stay in Manchester."
So, by all means, download the app if you're going to be one of the lucky fans at the Etihad on Tuesday!
Gerard Piqué, in an interview with The Telegraph, opened up about his teammate Neymar Jr, the Champions League tie against Manchester City, and FC Barcelona's style of play.
"He's really young, he's got a lot of hunger to show to the world that he is right for Barcelona and that he's one of the best players in the word," said Piqué on his teammate Neymar Jr. "His quality, his skills, his goals, have added a lot to the team and at the same time maybe he takes a little bit of the focus."
The defender added: "Everything was on Messi, with everyone trying to stop him. Now we have another way. Ok, if it's not Messi's day, we have Neymar, we have Pedro, we have Alexis, we have a lot of quality in the striker area, and I think that's really good for the team."
When asked about the upcoming Champions League match against Manchester City, Piqué explained: "I remember when Pellegrini was here in Spain with Malaga and Real before he always liked to play […] I think he has good quality players with David Silva, Kun Aguero – you know, they can have the ball, have the possession. They're having a good season."
Piqué then went on to talk about Barça's style of play and its evolution over the years: "I think you have to play the way your players can play. With Xavi and Andres Iniesta and definitely Messi you have to play like this [possession football], because it's the best way to win titles. It's true that maybe we play a little more direct now, but you have to try to improve. All the other teams – all our opponents – they know how we play and how to defend against it. Finally you have to find ways to be different, or try to find other options and solutions to try to score goals.
"It's difficult for us to be like Atletico Madrid now, who are playing very defensively, or Chelsea. We don't know how to play like this, because in the air we are weak, from corner kicks or free kicks. If the other team has people who are 6ft 3inch or 6ft 4inch we are dead, because we are really small. We don't know how to defend inside the box. We defend with the ball, by having the ball, with our possession."
Read The Telegraph article in its entirety here.
FC Barcelona are a "great club with an exceptional history"
Yaya Touré spoke to UEFA.com about Tuesday's Champions League showdown against his former club. The Ivorian international was clear that he doesn't relish the opportunity to face his old teammates: "It's difficult because I don't really want to play Barcelona. It's a club I have a lot of respect for, a club which taught me a lot and where I have many friends who helped me.
"I will play against these guys at the Camp Nou," he added. "It's the stadium where I always wanted to play and now I'll be coming back wearing a different shirt. I didn't want to play in front of the fans who gave me so much love and respected me, but that's football."
Touré then explained the differences in playing for FC Barcelona and Manchester City: "At Barcelona it was my job to hold and organise. It was all about being focused and never losing concentration. Now I can drop into defence or join the attack. I was limited to playing in the middle at Barcelona. I like playing in England because it's an open league and very fast-paced."
Read the UEFA.com article in its entirety here.