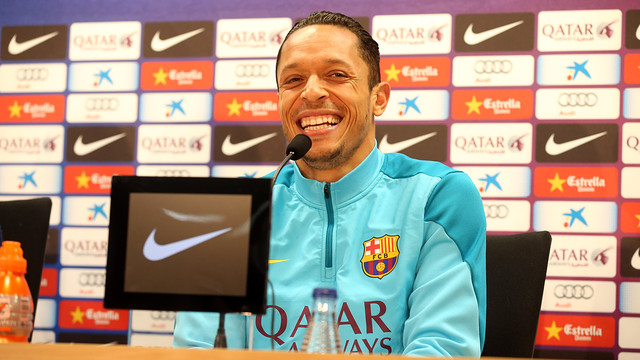 Speaking about the team's form, the Brazilian said "we learned a lesson at Anoeta. It won't happen again"
He added that "we are still alive in all three competitions and need to make up lost ground against Real Madrid"
Adriano Correia was the player chosen to face the press on Friday morning. He spoke frankly about the team's form going into Sunday's match with Almeria, saying that "we are very much looking forward to this chance to turn the page following the game in Anoeta. All we are thinking about is winning everything from now on."
Lesson learned at Anoeta
Adriano is positive about the team's chances this weekend, because "we learn from defeats, and what happened at Real Sociedad taught us a lesson. We need to be more intense to make sure nothing like that happens again." The team has come in for some harsh criticism in the press over the last few days, but the defender insists that "personally, I take criticism as something positive and use it to try to improve".
[[CITA_1]]
Adriano did add, however, that "sometimes we have come in for criticism that we haven't understood. We are still alive in three competitions and now have to try to make up the lost ground between us and Real Madrid."
Neymar, Brazil and the World Cup
As for other issues at the club, the defender insisted that as far as the players are concerned, "we just have to think about playing football." This particularly applies to his compatriot Neymar, who he claims "has been more worried about his injury than the comments about his transfer. He's happy at Barça and improving every day".
[[CITA_2]]
As for this summer's World Cup, Adriano's name has once again been ignored by Brazil coach Luiz Felipe Scolari. "I still have hopes of making it to the World Cup" he said. "But to do that I have to prove myself at Barça and play at the level that a club like this demands."
We learn from defeats, and what happened at Real Sociedad taught us a lesson
I still have hopes of making it to the World Cup, but to do that I have to prove myself at Barça