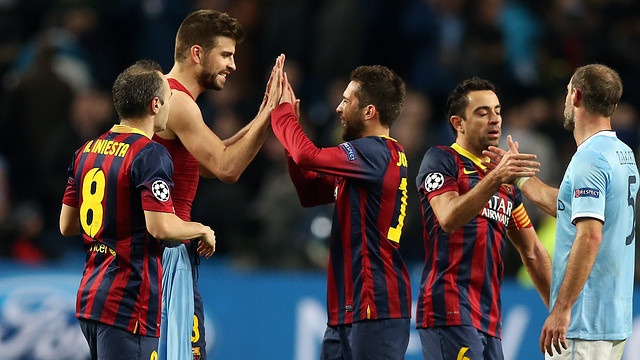 Barça have never failed to qualify in a European tie after a similar result in the first leg
Xavi equalled Raúl González as the second player with more Champions League matches
Barça's win at Manchester City in the first leg of the last 16 of the Champions League leaves us with some interesting statistics, shown below:
FC Barcelona have won 0-2 nine times in the first leg of a European tie, and every time qualified for the next round.
The last time was the Champions League semi-final in 2010/11, when two Messi goals sealed the win at the Santiago Bernabéu. In the return leg at the Camp Nou the teams drew 1-1.
In Manchester, Dani Alves scored his third goal this season. His two earlier goals came in the League, against Levante (7-0) and Sevilla (3-2). In the Champions, the last time he scored was against Spartak Moscow in the group stage last season (0-3).
Leo Messi has scored three times in the first leg of the knock-out stages in the Champions League. He scored in Glasgow in 2008, in Leverkusen in 2012 and this Tuesday in Manchester.
Xavi Hernández was the player who made most passes (137), followed by Cesc (108), Alves (107) and Busquets (102). Former Barça player Yaya Touré was the City player with most passes (62).
Xavi equalled Raúl González in the second position of players with most games in the Champions League, having played 144. Top of the list is Ryan Giggs (149).
The game at the Etihad was Andres Iniesta's 100th in UEFA competitions. He's played 95 in the Champions, 3 in the UEFA Cup, and 2 in the European Super Cup.
Gerard Piqué and Leo Messi are the players with most consecutive games in the starting eleven. The have both started in the last six matches.
Pedro Rodríguez has not played a single minute since the Getafe v Barça match in the return leg of the last 16 of the Spanish Cup.