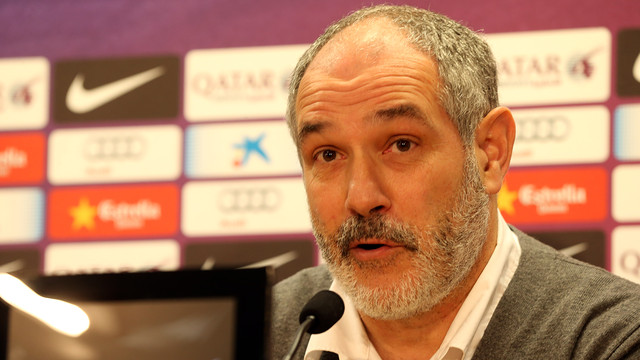 The director of football sports area said, "I've never seen a club show everything, figures, a player's salary…"
Speaking at a joint press conference with Gerardo Martino, the director of football Andoni Zubizarreta commented on events at the Club over the past few days that have led to the resignation of Sandro Rosell and his replacement by Josep Maria Bartomeu. "This is not the kind of news you want to receive. Furthermore, Rosell has always been very close to the players". "Let's respect his decision because it's the best for him and for the Club".
Zubizarreta knows FC Barcelona better than most: "This is a special club; different and alive. It brings together different ways of thinking and at many times these have blended and at other times they've caused shocks and difficult moments. I think it's a rich debate because I don't like linear institutions with a single way of thinking".
He also commented on Friday afternoon's press conference in which Josep Maria Bartomeu and Raúl Sanllehí (director football management area) explained the figures of Neymar's transfer. "I've never seen a club show everything, figures, a player's salary…". We have been absolutely transparent, which wasn't asked for; the transfer cost 57,100,000 euros".
Finally, he praised the work of first team coach Tata Martino: "We are very happy with his work and we're working as normal for the future".