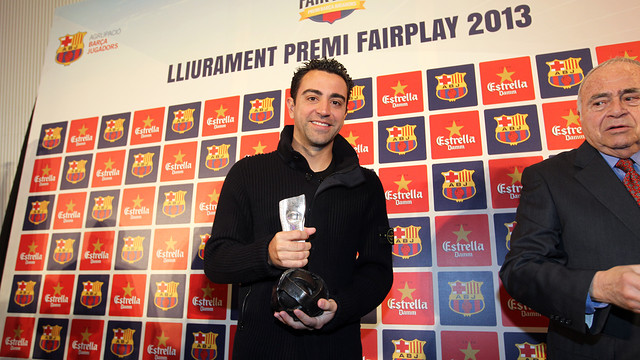 Although it may not be definitive, a win would lay down a marker
The Catalan midfielder today picked up the Barça Jugadors award in recognition of his fair play last season

Award winners
2009-2010 Bojan Krkic
2010-2011 Andrés Iniesta
2011-2012 Xavi Hernández
2012-2013 Xavi Hernández
Xavi reckons that:"the game against Atletico is vital for the outcome of the league – it might not turn out to be definitive, but a win would lay down a marker. We are coming into the game with some good form. We'll try and take charge and let's hope we see a good performance"
Leo Messi's return grabbed the headlines last night and Xavi wasn't surprised at his performance: "it was an impressive return and he's clearly come back hungry and motivated. We are strong and with Leo nad Victor back, even more so. There's a lot of competition and the team is looking really godd".
Fair play award
Xavi Hernández was speaking after receiving the 4th Barça Jugadors Award for fair play, given by the Agrupació Barça Jugadors. The trophy – designed by Agustí Puig – was given to Xavi by Club President Sandro Rosell, together with the President of the Agrupació Barça Jugadors, Ramon Alfonseda, the Director General of Damm, Enric Crous and various Board Members.
Since the end of last season. more than 4,000 fans have cast their vote via Facebook and the six finalists were Abidal, Iniesta, Messi, Pedro, Puyol and Xavi. The jury decided on July 15th that for the second consecutive season, Xavi should receive the award.
The jury, which consisted in of various sporting and social personalites. made special mention of Xavi's great personality and his ability to transmit the values of the Club.
The award ceremony also serves to remember an ex-player who had the prize existed in their time, would surely have been in contention and this year the player honoured was Josep Seguer, who passed away on New Year's Day.