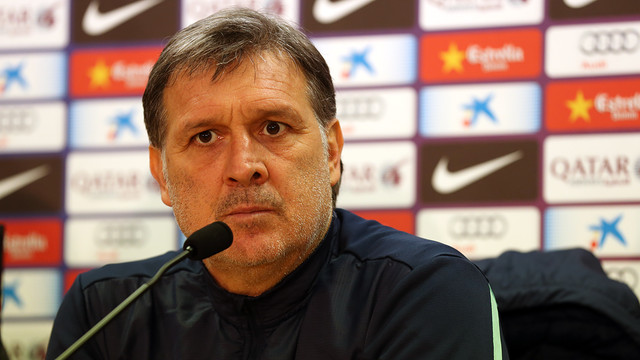 "Victory doesn't guarantee immunity from debates about the team's form," says the manager
"I congratulate Cristiano Ronaldo. The best player in the world, there is only one, and we have him; the award given to the best player in the world, is someone else," says Martino
Tata Martino doesn't want any surprises on Thursday at the Coliseum Alfonso Pérez, so he's told his men to play the second match of the Copa del Rey round of 16 tie as if the first match between the two sides had ended in a 0-0 draw. "We have never hidden behind the result of a previous match. We will play as if the tie was at 0-0," said the manager in the pre-match press conference. When asked if his players are thinking about the Cup tie in 2007 when Getafe fought back to a 4-0 victory after losing 5-2 at the Camp Nou, Martino said, "even if that hadn't happened, football is full of surprises and we have to do what we can to avoid them."
The Argentinian admitted that it's a good thing that there's a debate about the team's overall form. "Victory in of itself doesn't guarantee immunity from these types of debates. Criticism can be logical and when we're praised it means we're doing things right," he said.
On the match at the Vicente Calderón, Martino said, "I really liked how competitive we were. Very intense, decisive matches are coming up against rivals that will make it hard to play our style of football."
"Bartra's contract extension is vital"
One of the biggest pieces of news of the day is Marc Bartra's contract extension. "It's very good news. Bartra, Iniesta, Sergio Busquets… they are players that have a lot to give Barça. Bartra is a very young player who's earning his spot in the first team," said the manager. "He's a quality footballer, he's eager to succeed in the Barça shirt and he's learning alongside of Piqué, Puyol and Mascherano. It's fundamental for Barça to have him. I think it's good news for all Barça supporters," he concluded.
Martino also talked about the Ballon d'Or. The manager congratulated Cristiano Ronaldo for winning the award on Monday. "The best player in the world, there is only one, and we have him; the award given to the best player in the world, is someone else."