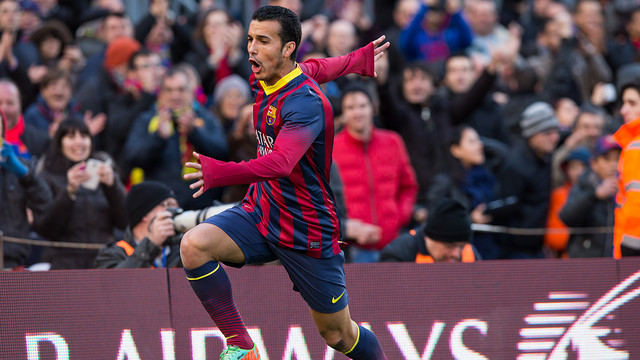 Pedro and Alexis, with 11 goals apiece, are the team's highest scorers in La Liga
Piqué made his 250th appearance for the team on Sunday

The 4-0 against Elche leaves us with the following stats and facts:
Gerard Piqué featured in his 250th official match for FC Barcelona. He's made 153 appearances in the Liga, 58 in the Champions League, 26 in the Cup, 9 in the Spanish Super Cup, 3 in the Club World Cup, and 1 in the European Super Cup.
Víctor Valdés made his return to competitive football after being sidelined for seven weeks with a calf injury.
With Valdés in goal, the team once again got a clean sheet in the league. The last time Barça didn't concede was in the derby against Espanyol at the Camp Nou (1-0) on November 1.
Iniesta was the player who completed the most passes against Elche (95). The second was Cesc with 87.
The two players to recover possession the most were Bartra and Song, they forced 9 turnovers apiece.
Alexis Sánchez scored his first hat trick for FC Barcelona. So far this season he's netted 11 times in the league and he's the team's highest goalscorer in the competition along with Pedro.
Pedro has scored in three consecutive matches. He scored against Cartagena (3-0) and netted three against Getafe (1-4).
Alex Song played the full 90 minutes, this is the first time since the match against Betis (1-4) that the Cameroonian has completed an entire match.
The first match in 2013 also ended in a 4-0. On that occasion, Barça faced off against Espanyol.