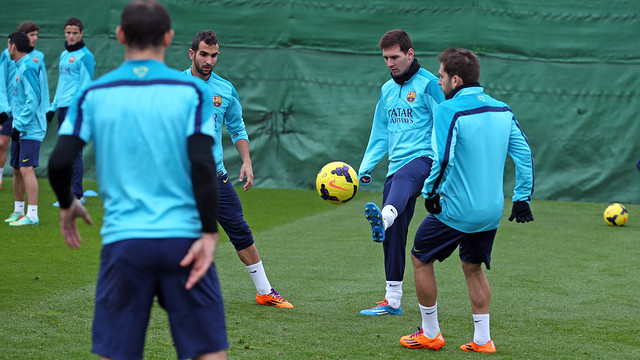 All four players are carrying injuries and are out of the 18-man squad for the Malaga game
Meanwhile, Afellay makes a welcome return to the squad
The players will have their final training session in the Camp Nou at 12 pm on Sunday
Gerardo 'Tata' Martino has named an 18-man squad for Sunday's match in the Camp Nou against Malaga (9 pm). Ibrahim Afellay makes a welcome return to the squad after being declared fit by the Club's medical services on Friday. His last outing with Barça was over 600 days ago in the final match of the 2011/12 season. The Dutch international has been plagued by injury since then and has also had a spell on loan to Schalke 04. Barça B's Dongou is also included in the squad.
However, Martino will be without Puyol, Iniesta, Montoya and Song. Puyol is still nursing a sore left leg and has been rested as a precaution. Meanwhile, Iniesta is continuing with his recovery from injury while Song (left calf) and Montoya (left Achilles tendon) join Neymar, Dos Santos and Oier on the injury list. Puyol, Iniesta and Neymar all followed their specific training routines today.
Finally, there was plenty to celebrate at today's session, with Afellay making his comeback to the squad after a prolonged absence and Xavi's 34 birthday.