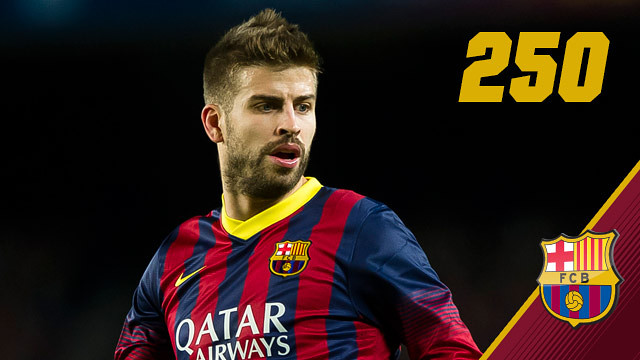 If he plays against Elche, the defender will make his 250th appearance for Barça
Gerard Piqué could start 2014 by making his 250th appearance for FC Barcelona on Sunday at the Camp Nou against Elche (16.00). So far, he has featured in 152 league games, 26 in the Copa del Rey, 58 in the Champions League, 9 in the Spanish Supercup, 1 in the European Supercup and 3 in the Clubs World Cup.
Sixth season at Barça
It is six years since Piqué returned home to Barcelona after spells at Manchester United and Real Zaragoza. He was only 21 in 2008, when he arrived at the same time as new manager Pep Guardiola. The Catalan soon became one of the first choice centre backs, and one of the most renowned players in the world in that position, testimony of that being his frequent inclusion in UEFA and FIFA teams of the year.
But more than individual accolades, it is what his team has achieved that really matters. At Barça, Gerard Piqué has won 16 major trophies: four leagues, two Champions Leagues, two Copas del Rey, two European Supercups, four Spanish Supercups and two Clubs World Cups.
Now approaching his 17th birthday, Piqué is about to become the sixth member of the squad to make it to 250 games, following on from Xavi, Puyol, Valdés, Iniesta and Messi, with Alves and Sergio Busquets not too far behind. And this happens in the same season when the Barça centre back scored his team's 1,000th goal in international tournaments.