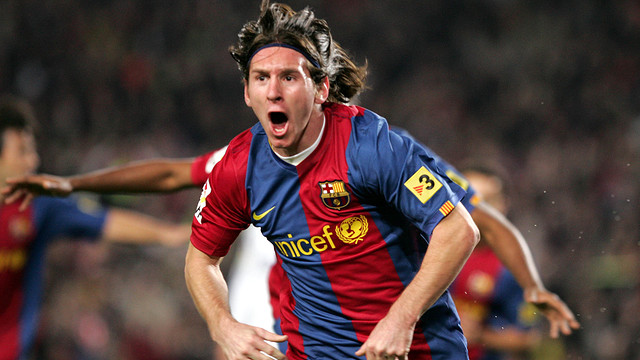 Facts and figures from Messi's career so far

When he reaches the 400 game mark, Messi will join the Top Ten players with most appearances for Barça, drawing level with José Ramón Alexanko in tenth place.
Messi's official debut with the first team was on October 16, 2004 in a deby game at Montjuic when he came on on 82 minutes for Deco. He was just 17 years, 3 months and 22 days old.
---
His first goal came against Albacete at the Camp Nou in week 34 of the 2004/05 league season.
---
His first hat trick was on March 10, 2007 in a league game against Real Madrid.
---
He marked game number 200 with a 2-0 win over Osasuna on March 24, 2010.
---
Messi has never picked up a red card
---
In the 399 games played so far, Messi has scored 331 goals.
---
He is Barça's all time leading goalscorer in official games and with 358 is closing in on Paulino Álcantara's 369 goals in official and friendly games.
---
His best scoring record in a season was in 2011/12 when he scored 73 goals in 60 games.
---
Messi is second in the Champions League's all time goalscorer list, with 65, 6 behind Raúl González.
---
He is the fifth leading scorer in the Spanish League with 223 and is closing in on Zarra (251), Hugo Sánchez (234), Raúl (228) and Di Stéfano (227).