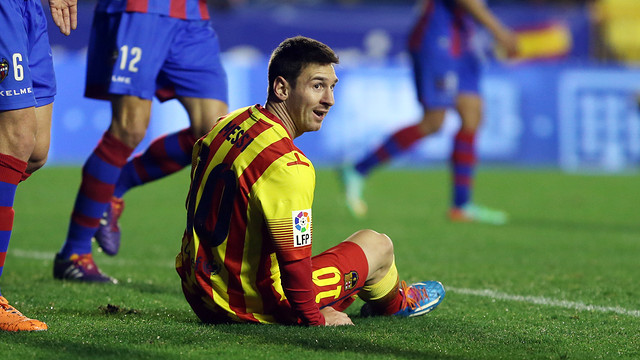 Lionel Messi was very generous in his 400th match for FC Barcelona as he directly participated in the team's four goals – he gave three assists and he set up the play that led to Levante's own goal
It was a special game for Leo Messi. The Argentinian featured in his 400th official match for FC Barcelona and thus reached the mark set by José Ramón Alexanco, who up until tonight was the 10th player in FC Barcelona history with the most games under his belt. Messi was one of the standout players against Levante in the team's second consecutive match at the Ciutat Esportiva as he provided three assists to Cristian Tello (1-4).
The clearest chance of the first half for Barça was a shot to the woodwork from Pedro. In a similar play, Messi nearly scored Barça's first a little past the half-hour mark.
The Messi-Tello connection
Barça were the better team in the second half. Messi, who dropped his position to the middle of the pitch, linked up with a galloping Tello and the subsequent shot was cleared by the Levante defence into the back of their own net (1-1). Messi and Tello were just getting started, however. The minutes that followed Levante's defensive error saw the Argentinian assist the Catalan on three occasions to close out the scoring for the night.
Messi played a crucial part in each of Barça's four goals, but he also wanted to score. He tried on various different occasions, from inside and outside the area, but none of them found their mark.