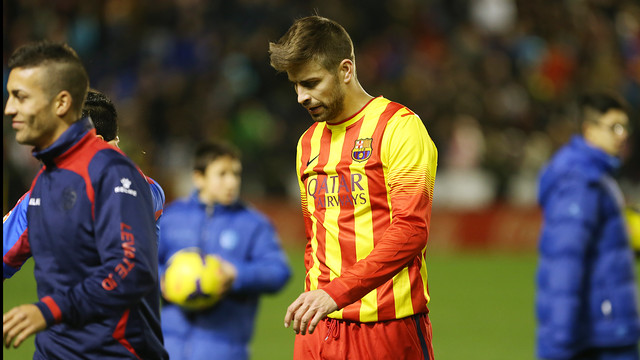 Unlucky Barça drop two points at the Ciutat de València (1-1) in a game where they deserved more
The first of the three games Barça play against Levante over the next ten days ended in a draw in Valencia. Barça had the chances, particularly in the second half, but an inspired performance from the home keeper Keylor Navas meant the points were shared, with Vyntra opening for Levante early on and Pique equalising soon after.
Carbon copy goals
With nine changes form the team that started in the Cup against Getafe midweek, Barça made it clear from the start who was going to be dominating possession, whilst Levante were happy to sit back and take any chances that came their way. The first was on ten minutes, when Vyntra out jumped Busquets and Cesc from a corner to head past Valdes for the opener-
Ten minutes later, Barça were level, with Gerard Piqué heading home a carbon copy of Vyntra's effort for his first goal of the season. With Levante tightening up their well organised defence, a Xavi shot from the edge of the box was just about Barça's only other chance in the first 45 minutes.
Barça pin hosts back in their own half
Martino's men continued to pin Levante back in their own half after the break and after a great effort from Cesc, only a brilliant double save from Messi and Xavi by Keylor Navas and a goal line stop by defender Juanfran kept Levante in the game, before Valdes had to pull off two fine saves himself from Ivanschitz.
With Sergi Roberto, Tello and Dongou coming on for the closing stages, Barça upped the pressure even more, but again Navas, with a good save from Tello, and his solid defence were able to keep them out and Barça had to settle for a point.