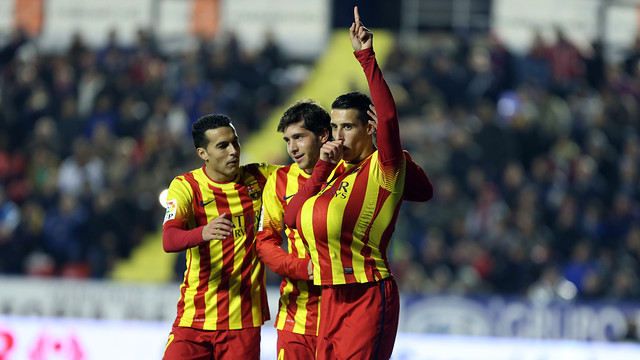 Three goals from the Catalan and an own goal from Juanfran give FC Barcelona a 1-4 victory at the Ciutat de Valencia
Leo Messi assisted Tello all three times
In the Cup goals were not hard to come by. FC Barcelona bounced back from this weekend's draw in the league as they comfortably defeated Levante in the first leg of the Copa del Rey quarter-finals. They did it despite having to deal with a very similar match to the one played this Sunday. There was a certain dejà vu feeling about it all, but in the second half, Messi's assists and Tello's goals – and an own goal from Juanfran – saw Barça fight back and take the win.
Now, Barça and Levante will close out the three-game series next week on Wednesday, January 29, at the Camp Nou (10.00 PM CET) for the second leg of the Copa del Rey quarter-final.
Same story
Levante came out swinging in the opening minutes of the match. They were intense and pressured FC Barcelona high up the pitch, while the Blaugrana found it hard to create chances – despite Pedro's shot to the woodwork on minute 4 – and retain possession. It was very similar to the league game the two teams had played on Sunday, and even more so when Nabil El Zhar scored the opener on 30 minutes. At the other end of the pitch, Barça, who didn't have the necessary pace to break down Levante's defence, couldn't find a way to draw level.
Lady luck smiles on Barça
Barça, just as in the match on Sunday, improved in the second half. The players were more intense and they were determined to score the equaliser. The tying goal finally came when Messi sent a brilliant pass for Tello; the forward's shot was saved but the clearance from Levante's defence saw the ball luckily bounce into the back of the net.
Messi and Tello turn the game on its head
FC Barcelona killed the game off minutes later when Messi, with another brilliant through ball, linked up with Tello. The forward one-timed the ball past Javi Jiménez for the go-ahead goal. It was 1-2, and nearly identical plays from the Argentinian and Catalan led to the 1-3 and definitive 1-4 scoreline.
Three goals for the Catalan – his first hat trick in the FC Barcelona strip – finished the game and perhaps the quarter-final tie. Barça will attempt to close out the tie on Wednesday at the Camp Nou.