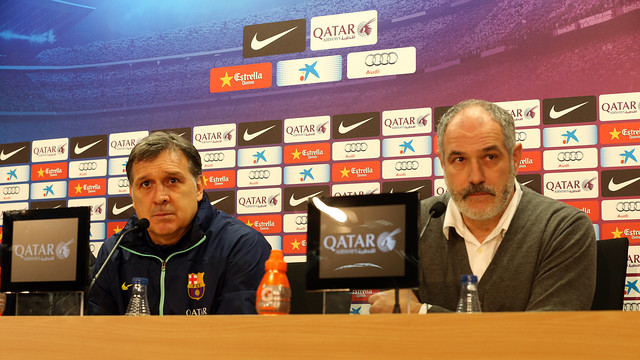 The Argentine coach discussed Sandro Rosell's resignation and said it mustn't affect the team
He expects his players to have "a lot of the ball" against a defensive Malaga side
Football and the resignation of former president Sandro Rosell shared the spotlight on Saturday at Tata Martino's pre-match press conference ahead of Sunday's clash with Malaga. Seated alongside director of football Andoni Zubizarreta, Martino expressed his appreciation to Rosell and the hope that it wouldn't affect the team.
Describing his reaction to recent events, he revealed: "It was a moment to focus on football and make sure the squad was in good spirits. I tried to isolate myself a bit and focus on the players. We have to give our response on the pitch". Martino said that he had spoken with the former president and believed that his resignation "is not good news".
However, he stated that he is equally comfortable with the new president, Josep Maria Bartomeu. "I don't feel in a weaker position. The new president and Zubizarreta are the two people I've spoken to most since I've been here".
He firmly believes that this situation will not affect the team: "I know this squad. They enjoy playing for this club. They want to win, to play well, respect a style and try to win". Referring specifically to Neymar, he emphasised: "He always looks the same to me. I have no doubt whatsoever that this won't affect his return or his football".
And now Malaga
Turning to purely football matters, Martino gave his vision on Sunday's game against Malaga in the Camp Nou: "We'll have a lot of the ball, with Malaga defending and waiting for a chance to break. We have to focus on our first goal chances". Martino believes that his players will be able to isolate themselves from all the fuss surrounding the match: "The only thing we have to focus on is winning the match".
Tata Martino also spoke about two of his players, Iniesta (who is ruled out of the Malaga game) and Afellay. "Iniesta isn't a big concern. We've taken a few days to see how he progresses. It shouldn't take long". As for the Dutch international: "Afellay has looked very good this week and we thought it was a good time to include him".