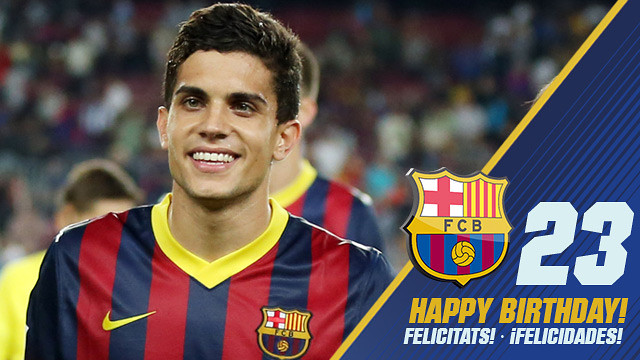 Marc Bartra is celebrating his 23rd birthday today – January 15.
This is Marc's second season in the first team squad and he is playing an ever increasingly important role.
Marc Bartra is 23 this Wednesday. In his second season with the first team squad, Bartra – who joined the Club at the age of 11 – actually made his debut when he was 19, on February 14, 2010, when the team narrowly lost(2-1) to Atletico Madrid at the Vicente Calderón. He came on as a sub for Jeffren on 62 minutes and slotted in at right back.
More game time in his second season
Marc has established himself in the squad this season, having played 14 games – just two less than he managed all of last season. Eleven of those appearances have been in the league and eight as a starter, a clear sign of the confidence that Tata Martino has in the young Catalan. He also played in the first leg of the Cup tie against Getafe and against Celtic in Glasgow in the Champions League group stage.