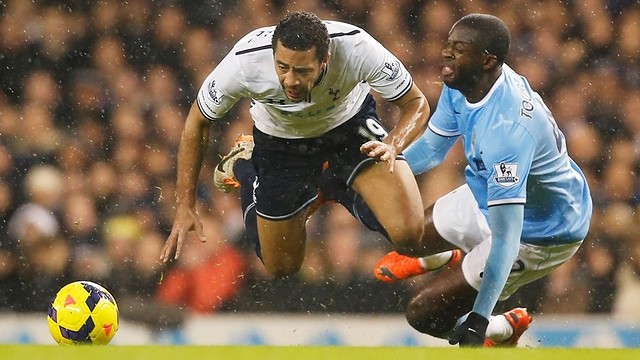 The team managed by Pellegrini win their eighth consecutive league match
El Kun Agüero picked up an injury and had to be subbed off in the half
Manchester City won their eighth consecutive Premier League match this Wednesday and they secured the top spot of the table. Manuel Pellegrini's men took advantage of Arsenal's draw with Southampton (2-2) when they defeated Tottenham (1-5).
Five different Manchester City players got on the scorecard this evening. The first was Agüero after 15 minutes of play. In the second half Touré score the second, and shortly after Tottenham were reduced to 10 men. In the 53rd minute, Dzeko scored the third, and minutes later Capoue pulled one back for the London-based side. Jovetic (min 78) and Kompany (min 90) finished off the scoring.
Agüero picks up an injury
Barça next rival in the Champions League are waiting to see how serious Sergio Agüero's injury is. The Argentinian was subbed off in the first half when he sustained an injury to his right leg.