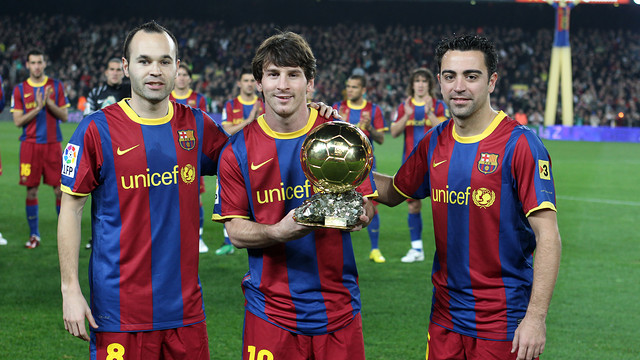 Last year he became the first footballer to win the award four times
Barça's Ballon d'Or winners
1960 Luis Suárez
1973 Johan Cruyff
1974 Johan Cruyff
1994 Hristo Stoitxkov
1999 Rivaldo
2005 Ronaldinho
Leo Messi won't miss the 2013 FIFA Ballon d'Or gala on Monday, seeing that the Argentinian has attended the event continually since 2007. Since then, Messi has always finished in the top three for the award.
In 2007 he finished third, behind Kaká and Cristiano Ronaldo. The following year the award was won by the Portuguese player; Messi finished second. From 2009 until 2012, Messi won the Ballon d'Or four consecutive times, a feat that no players has ever achieved.
This Monday, Leo Messi might win his fifth Ballon d'Or. Regardless of the outcome on Monday, no one can take away Messi's seven consecutive top three finishes.
Ballon d'Or
2007

1st
2nd
3rd
Kaká
(AC Milan)
Cristiano Ronaldo
(Manchester Utd)
Leo Messi
(FC Barcelona)
Ballon d'Or
2008

1st
2nd
3rd
Cristiano Ronaldo
(Manchester Utd)
Leo Messi
(FC Barcelona)
Fernando Torres
(Liverpool)
Ballon d'Or
2009

1st
2nd
3rd
Leo Messi
(FC Barcelona)
Cristiano Ronaldo
(R. Madrid)
Xavi Hernández
(FC Barcelona)
FIFA Ballon d'Or
2010

1st
2nd
3rd
Leo Messi
(FC Barcelona)
Andrés Iniesta
(FC Barcelona)
Xavi Hernández
(FC Barcelona)
FIFA Ballon d'Or
2011

1st
2nd
3rd
Leo Messi
(FC Barcelona)
Cristiano Ronaldo
(R.Madrid)
Xavi Hernández
(FC Barcelona)
FIFA Ballon d'Or
2012

1st
2nd
3rd
Leo Messi
(FC Barcelona)
Cristiano Ronaldo
(R. Madrid)
Andrés Iniesta
(FC Barcelona)