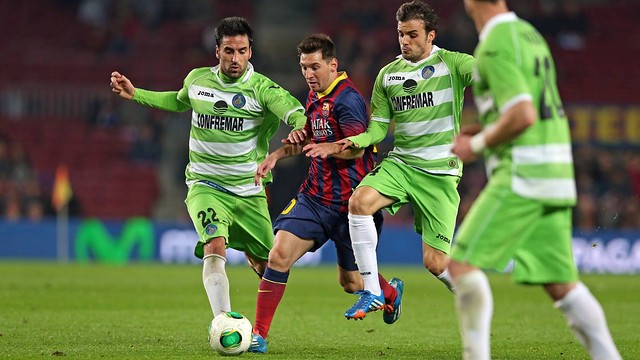 The Argentinian's performance against Getafe in the Copa del Rey is praised by the press from all corners of the globe
It's been a long road to recovery for Leo Messi after a torn hamstring forced the player to bow out of competitive play for nearly two months. Messi's long-awaited return was expected in early January – the Club's Medical Services estimated a recovery time of six to eight weeks; he was injured on the Nov. 10 – but what wasn't expected, but certainly hoped for, was how well he performed once he got on the pitch. Messi scored two goals in the span of four minutes, his total time on the pitch was 30 minutes after he was subbed on for Andrés Iniesta in the Copa del Rey tie against Getafe.
After the match, Gerardo Martino aptly stated that Messi's "career is like a movie script, today was just one scene." If what we're all witnessing were a film when watching the Argentinian play (at times it certainly feels like it), the headlines from around the world would read something like this:
Catalonia
"The assassin's look is back" reads the cover story on Mundo Deportivo's website. The Catalan daily, like many others in the region, borrow Martino's descriptive words when he was asked about Messi's physical and mental state last week. Sport, on the other hand, lead with "The f****** master is back." The Barcelona-based daily go on to describe Messi's second goal: "He saved the best for last. In stoppage time, he scored the 4-0 in impeccable form after one of his stratospheric runs from nearly the middle of the pitch. It was a work of art worthy of his massive highlight reel. It's true, Messi is back."
Spain
The headlines are similar cross the Catalan border. The Madrid-based daily Marca leave no room for doubt: "Messi is back." They add: "He needed less than half an hour to prove that he's on form." As, another Madrid-based daily, also play on Martino's assassin theme, albeit more subtly: "Messi is back like a shot."
Argentina
The Argentine daily Olé headline reads: "Killer goals," and they follow the headline up with, "He scored a goal in his style … a style that allows him to go from 0 to 100 km/h in one second, from right to left and with supersonic speed which allows him to evade his rivals and teammates so that he can finish off the play with a shot full of class and fury worthy of a goal of the look of an assassin." The Buenos Aires Herald note that Messi "looked fit and sharp during his half-hour on the pitch and his return is good news for coach Gerardo Martino with Saturday's La Liga clash at title rivals Atlético Madrid looming."
United States of America
"I think it's safe to say that [Messi] quashed all of those," says ESPN's Gabriele Marcotti in regards to the concern surrounding the Argentinian's post-injury form in the story titled "Back with a bang." He goes on to say: "Two goals in three minutes and thirty one seconds, and really a string of dazzling plays, feints, shimmies, the kind of stuff that Messi does better than just about anyone else around … It's certainly what you would call laying down the marker." CNN also follow suit as they declare that Leo Messi "is back."
We could continue with the litany of news sources from around the globe, but they all say the same thing in this real-life drama: Leo Messi is back, and he is as lethal as ever.