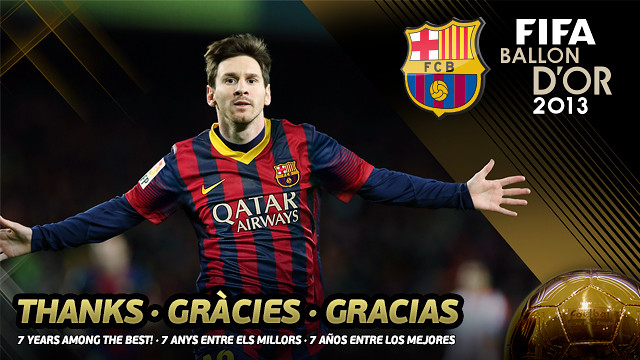 FC Barcelona's forward, who has won the last four editions of the Ballon d'Or, finished second behind Ronaldo and ahead of Ribéry
Messi has finished in the top three for seven consecutive years

Leo Messi finished second for the 2013 FIFA Ballon d'Or. The FC Barcelona player, who has won the last four editions of the prize and has been in the top three for the award for the last seven consecutive years, finished behind Cristiano Ronaldo this year. Frank Ribéry finished third.
The 26-year-old Argentinian garnered 24.72% of the vote, while Ronaldo got 27.99% and Ribéry got 23.36%.
This is the highest vote percentage of any second-place finish since the FIFA World Player and Ballon d'Or were consolidated into one award. One year ago Ronaldo, who came in second, got 23.7% of the vote; two years ago the Portuguese player got 21.6% of the vote, and three years ago Iniesta got 17.36% of the vote.
After the Gala, Leo Messi said, "it's a pleasure to be here for a seventh consecutive year. It's very nice." When asked about Cristiano Ronaldo, he said: "before anything else I want to congratulate him. He had a great year and his emotion is very understandable." [[CITA_1]]
The Argentinian went on to say that "my motivation is the same whether I win the award or not. Now I want to continue to grow, improve and win titles. Winning the Champions League, the Liga or the Copa del Rey is more important than winning individual prizes."[[CITA_2]]
In addition to Messi, a total of three FC Barcelona players finished in the top 6 for the award, they are Neymar (5th) and Andrés Iniesta (6th). Zlatan Ibrahimovic (4th), Van Persie (7th), Robben (8th), Bale (9th) and Pirlo (10th) complete the top 10. Barca are the only team to have three players in the top 10.

Messi continues to dominate
Despite finishing second, Leo Messi continues to be the player with the most Ballon d'Or trophies in the history of the sport, ahead of the three won by Michel Platini (1983, 1984 and 1985) and the three won by Johan Cruyff (1971, 1973 and 1974) and Marco van Basten's three (1988, 1989 and 1992).
In addition, the Puskás Award was won the former Barça player Ibrahimovic (PSG). Neymar Jr and Nemanja Matic (Benfica) were finalists for the award.
El guanyador de la FIFA Pilota d'Or 2013 és Cristiano Ronaldo. Enhorabona de part del FC Barcelona! #fcblive #BallondOr

— FC Barcelona (@FCBarcelona_cat) enero 13, 2014
Felicitats a Cristiano Ronaldo per la Pilota d'Or. I gràcies Leo per haver-nos fet gaudir d'un any 2013 inoblidable.

— sandrorosell (@sandrorosell) enero 13, 2014
Before anything else I want to congratulate him. He had a great year and his emotion is very understandable
My motivation is the same whether I win the award or not. Now I want to continue to grow, improve and win titles