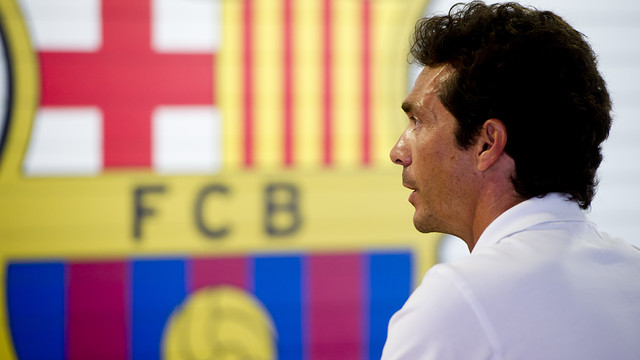 The FC Barcelona technical director of youth football says that the youth policy "is what has given us, and will give us, success"
"When you're part of the youth squads, the first team seems far away, but it's not impossible"
The youth teams of FC Barcelona go from success to success. The aim is to educate young players as people and footballers so that they can reach the first team, as Adama, Dongou and Patric have done this year. According to Guillermo Amor: "Youth football, as we have been managing it in recent years, must carry on in the same line, methodology, style and philosophy". "We have to maintain this because it's what has given us, and will give us, success".
Speaking in an interview with the Barça TV programme 'Promeses', Amor insisted: "What we must never lose is our style; the essence. That mustn't be lost, no matter who is in the first team".
[[CITA_1]]
The former Barça star stressed the need to look for local talent. "We should always look for local players. The best players can be found here. When you give local people the chance, they respond and defend their team to the end".
This season, youth stars Adama, Dongou and Patric have all made their senior competitive debuts. Speaking about Adama, Amor revealed: "He's a very modest lad and understands that it doesn't all stop here. One thing is to make your debut, but what you can do in the future is something else". "It's really hard to keep your place and when you're in the lower levels, it seems far away and difficult. But they have to believe it's not impossible".
[[CITA_2]]
Amor is "absolutely delighted" with his job within the youth football set-up because "I am in the Club of my heart".
When you give local players the chance, they respond and defend their team to the end"
"Adama is a very modest lad and understands that it doesn't all stop here"