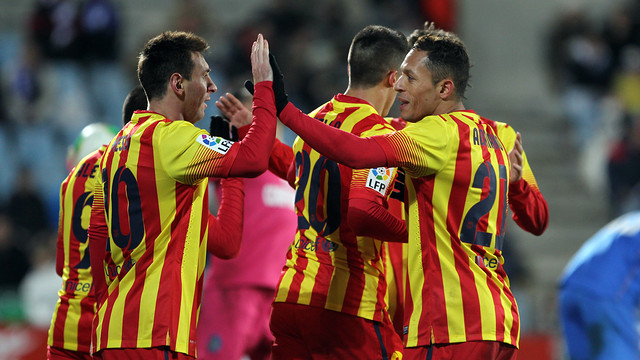 Barça reach the next round of the competition, Neymar picks up an injury
Messi scores a brace
Xavi features in his 700th match for the team
Everything indicated that the 4-0 from the first leg would make for a relatively placid second leg this evening at the Coliseum Alfonso Pérez, but that wasn't the case as the fans were treated to a fairly intense match. Neymar picked up an injury, Messi scored a brace and Xavi featured in his 700th official match for the team.
Barça dominate
Barça played a fairly practical game against Getafe. At the start, the Blaugrana controlled the flow of play through possession, and they managed to threaten Codina's goal thanks to the Neymar-Messi partnership. In the first half, Getafe also had their chances to score, but Pinto was up to the task of denying the home team.
Neymar gets injured
On 22 minutes the Barça players froze when Neymar, who had just crossed the ball into the area, clutched his leg in pain. At first it looked as though the player had seriously injured his knee, but Barça's medical team concluded that he had sprained his right ankle.
Barça score, #Xavi700
Right before the the break, on 43 minutes, Leo Messi fired Barça ahead after a good cross from Tello. The Argentinian didn't end there, in the second half (63rd minute) he took four defenders, beat them, rounded the keeper and scored a classic goal that only he can score.
Another player that deserves mention is Xavi Hernández. The midfielder was subbed on in the 70th minute, thus taking his tally of games played for FC Barcelona to 700.