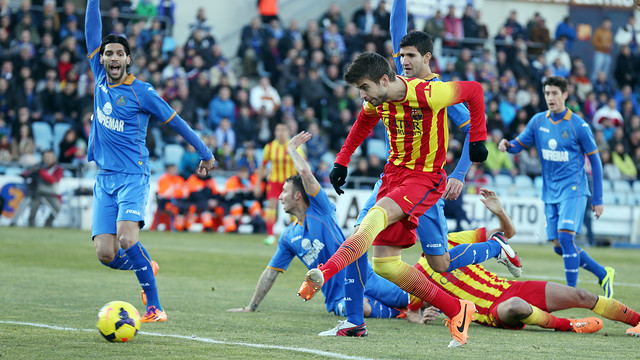 10:00 PM CET, TV3 and Antena 3: Barça come into the second leg of the Copa del Rey tie against Getafe with a 4-0 lead
Tata Martino left Busquets, Jordi Alba and Iniesta out of the team
Barça are close to the quarter-finals of the Copa del Rey. The 4-0 from the first leg at the Camp Nou against Getafe give the Blaugrana quite a bit of breathing room this evening in Madrid. However, the tie isn't over and Barça must secure passage to the next round of the competition at the Coliseum Alfonso Pérez.
Two previous matches should have Tata Martino's men on high alert. The first was the semi-final of the 2007 edition of the Cup: after the 5-2 at the Camp Nou, Getafe managed to fight back in Madrid and win by 4-0. The second happened a month ago: the Madrid-based team took an early 2-0 lead in the first 14 minutes of the league match at the Coliseum. Barça managed to mount a comeback thanks to a brilliant performance from Pedro.
Xavi hits 700 matches for Barça
With that in mind, Barça aren't taking anything for granted. Tata Martino named 18 men to the team for the match, among them Xavi Hernández. It will be the midfielder's 700th official match in the Blaugrana strip if he features this evening against Getafe.
Three of Tata's regulars have been left out of the squad. They are Sergio Busquets, Andrés Iniesta and Jordi Alba.
Getafe, on the other hand, are hoping to mount a massive upset. Manager Luis García has named 19 men to the team, among them two youth team players: keeper Galván and defender Vigaray. Escudero, Valera, Lopo, Gavilán and Mosquera were not named to the team. Getafe are currently on a four-game losing streak, which means they are especially keen to win this evening in order to regain confidence.