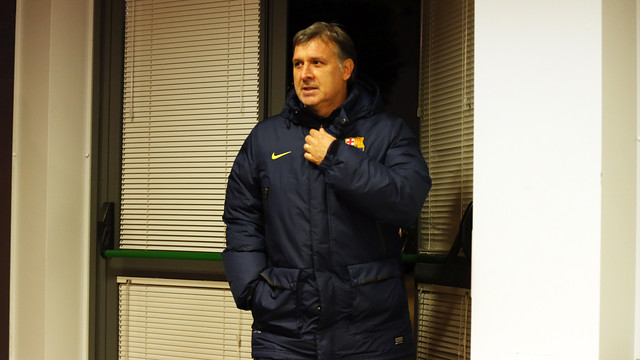 The manager revealed that he's conferred with his players in order to find a way to break through Levante's defence

Gerardo Martino expects Levante to approach tomorrow evening's Cup tie in the same way they approached the league match on Sunday. "It's true that they have a different team from the other day, five footballers [who played on Sunday] won't be there tomorrow, but we expect the same approach from Levante," he said in this afternoon's pre-match press conference. The manager revealed that he conferred with his players in order "to find a way to break Levante's defence."
The manager added that his team created enough chances to win the game on Sunday. "It was difficult for us in the first half, but in the second we hurt them. Normally we take advantage of our chances," he said.
[[CITA_1]]
Martino was continually asked about Andrés Iniesta's fitness. "He's still training differently than the rest of the players. Given his training I thought he needed a bit more time in order to be considered for the squad. We're in a very decisive part of the season and I don't want to run the risk of Iniesta picking up a more serious injury," he explained.
[[CITA_2]]
The manager also talked about set pieces, plays that have seen the Blaugrana concede more then one goal so far this season. "It has to do with height because overall we're a short team, but we're not going to change how we defend corner kicks. We're going to try to be as solid as possible," he said.
When asked about set pieces at the other end of the pitch, Martino said, "we should focus our efforts more on how we play than on set pieces. I think we'd have fewer chances if we believed that we'd have a better chance of winning through set pieces than from open play."
We're in a very decisive part of the season and I don't want to run the risk of Iniesta picking up a more serious injury
We won't change how we defend corners. We will try to be as solid as possible