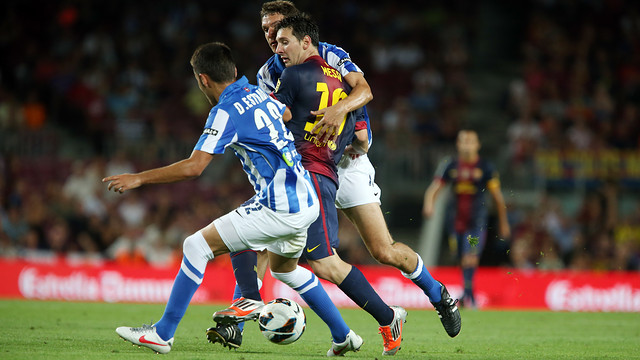 FCB have played 30 times against the side from San Sebastia, and on eight occasions have progressed to the next round and have also won four finals against the Basques
In the league, Barça won 4-1 at Camp Nou earlier this season with goals from Neymar, Messi, Busquets and Bartra
Real Sociedad will be facing Barça in the semi-finals of the Copa del Rey after the Basques qualified at the expense of Racing Santander, who despite coming onto the pitch for the second leg, opted not to the play the match in protest.
Barça and Real will play the first leg of the semi-finals on Wednesday, February 5 at the Camp Nou at 22.00. The return leg at Anoeta will be on February 12, also at 22.00.
The two clubs have met 30 times in the Spanish Cup, with Barça winning 19 of those games, which have included four finals. But this is the first time they have crossed paths since the 1989-1990 quarter final. In the clash earlier this season, Barça beat Real Sociedad 4-1 with goals from Neymar, Messi, Busquets and Bartra.