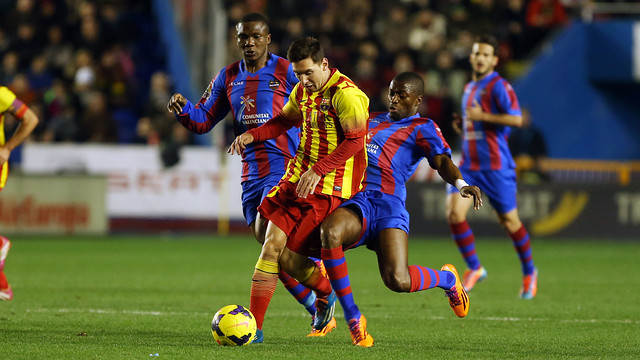 Messi talks to FIFA about his recovery in Argentina, and EUMD makes the case that one of the best versions of Argentinian is when he doesn't score
Leo Messi sat down with FIFA.com to talk about his two-month long recovery from his hamstring injury and his impression of the upcoming 2014 World Cup.
"It was tough, to be honest, very tough. But the fact that I went to Argentina and put a bit of distance between myself and the dressing room, and all the fuss that goes with it – to put it that way – did me a lot of good," said Lionel Messi to FIFA.com when asked about his decision to recover from his hamstring injury in Argentina. "Putting aside the bad stuff, the two months I couldn't play did me a lot of good physically. I'm trying to see the positive side of it," he continued.
FC Barcelona's No. 10 then went on to describe what it was like to watch his team on TV during his time in Argentina. "I'm much more nervous [watching] than when I'm on the field. The fact you're on the outside looking in and not on the inside able to lend a hand makes it all that much worse."
While the 2013/14 campaign is only halfway over, and with Barça fighting for three titles (Copa del Rey, Liga, and Champions League), one competition features prominently in Messi's mind, the World Cup. "Though there are a still a few months left and it seems quite far away, it'll be on us before we know it. But we've got lots of important challenges before that: the Champions League, trying to retain the La Liga title, the Copa del Rey. We're taking things one step at a time but, to tell the truth, the World Cup's on all of our minds already," said Messi.
"Argentina are in good form at the moment. We weren't doing all that well in qualifying until we won away in Colombia, but then we had a great campaign. It was a major turnaround and a very positive thing for us. It's a very good group of players and we all get on very well. It might just be our year but once the World Cup starts anything can happen, it's very difficult. But I do think that we're in good form," he concluded.
When Messi doesn't score
The first leg of the quarter-final Cup tie against Levante on Wednesday brought a variety of hat tricks – Cristian Tello netted three goals and Leo Messi supplied the Catalan with three assists. The Argentinian's display didn't go unnoticed by EUMD, an online football analysis blog. After the match against the Valencia-based team, they noted: "In the second half [Messi] stopped being the tip of the spear, the one who scores, and became the man who gives the final pass. He dropped to the midfield as many times as he pleased, and surprisingly no one followed him … He gave four goals to the former youth team player [Tello] – the first one was an own goal by Juanfran.
"But the play leading up the goal was the same. The two goals he gave Villa in the 5-0 over Madrid, the one he gave in the Espanyol-Barça in the 2010/11 season. It seems crazy to say that a man who has won three golden boots, but one of the best versions of Messi is when he doesn't score."