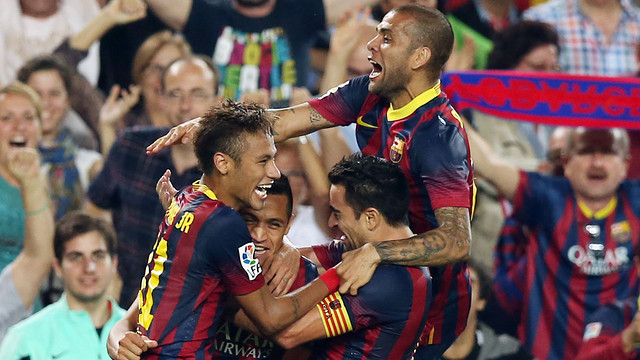 FC Barcelona have a non-stop schedule ahead, and if they make it past the Copa del Rey quarter finals, they will be playing 15 games in two months
The Christmas break is over, and the next few weeks are going to a busy time for the FC Barcelona players. If they make it through the next two rounds of the Copa del Rey, they'll be playing 15 games in January and February. In other words, seven straight weeks with a game every three days.
The first game of the year is on Sunday against Elche (16.00, Canal+ Liga and Gol T). Then the Copa del Rey resumes with the first leg of the Getafe match on Wednesday January 8, again at the Camp Nou (22.00, TV3 and Antena 3). The return leg is a weekend fixture on the 16th at the Coliseum Alfonso Pérez (22.00, Antena 3). If Barça qualify for the next round, where they'll meet either Rayo Vallecano or Levante, then they won't have a midweek break until the final week of February.
Big game with Atlético
Before the second game with Getafe, FC Barcelona have one of the most important league games of the season away to Atlético Madrid. The game at the Vicente Calderón is on Saturday 11 (20.00, Canal+). On Sunday 19 (19.00, Canal+ Liga and GolT), Barça play their third road game in a row, this time at Levante in La Liga.
Assuming Barça make it into the last eight of the competition, the next Copa del Rey game will be on a day yet to be announced, from Tuesday 21 to Thursday 23 of January, with the return leg being played a week later (January 28-30).
Champions League in February
The second month of the year starts with another game against a big club, Valencia (February 1 or 2). If Barça make it into the cup semi finals, they won't have much time to prepare, for the first leg will be on a day from Tuesday 4 to Thursday 6 of February, and the return leg, also midweek, will be a week later. And in between, there's a league game with Sevilla.
By the end of February, Barça will know whether they have done enough to win a place in the Copa del Rey final on April 19. But they will also need to switch their minds back to continental competition. The Champions League resumes with one of the games of the season: the second round tie with Manchester City (February 18 at 20.45). And either side of that game, there are league fixtures against Rayo Vallecano (February 15) and Real Sociedad (February 22 or 23).