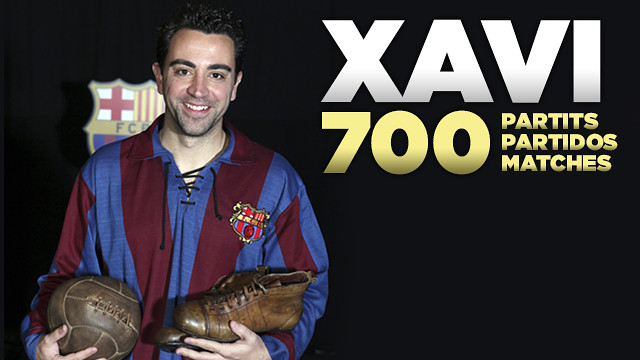 Puyol, Iniesta, Messi, Valdés and Sergio Busquets have spoken about Xavi's role in FC Barcelona history on occasion of his 700th official apperance
Xavi on Barça TV
The comments by Puyol, Iniesta, Valdés, Messi and Sergio Busquets form part of a report currently being completed about Xavi's 700 appearances for Barça. The show will also feature Sandro Rosell, Tata Martino and Andoni Zubizarreta.
Privileged, an example, different, the best, the brains of the team… So many ways to describe Xavi Hernández, who has completed 700 first team appearances and is a living legend at FC Barcelona. His fellow captains since 2006, Puyol, Valdés and Messi, along with Andrés Iniesta and Sergio Busquets have recorded their congratulations.
Defining a great
Iniesta says that Xavi "is a leader, an example, on a footballing level he's privileged because he's always ahead of the game, of what's happening." Puyol and Valdés both described him as the 'best', the former stating that "he's one of the best players in the world, a key player both for Barça and the national team", while the FCB goalkeeper adds that "he's the best midfielder Barça has ever had".
Last year, when Messi won his fourth Ballon d'Or "it was a pleasure to be next to Xavi. He is a different player who makes things look easy. He sees passes that only he sees. He gets the whole team playing and gets it moving from side to side as he likes."
And what about the players that came up from the youth team? Sergio Busquets explains that "he's the brains of the team, he gives it balance and never loses the ball".
A moment
Sixteen years make for a long time in the first team, and the man Xavi has spent most time with, Carles Puyol, said that "we had five very difficult years. We'd speak and say that it was not right that a team like FC Barcelona could go so long without winning anything. But luckily things changed and we were able to win a lot of titles with this team".
The final in Rome was the big moment for Andrés Iniesta, who said that "both for him and for me it was very satisfying to win that". Meanwhile, Messi's fondest memory was the Ballon d'Or gala in 2010 when he, Xavi, Iniesta were the finalists. "So many games, so many things we've been through, so many year's playing. It's difficult to pick one moment, but one nice thing was when we went together to the Ballon d'Or, and we experienced that together, along with Andrés Iniesta".
Objective 1000
Now he's played 700 games, Carles Puyol feels Xavi "can play a lot more, 1000 would be a nice number." And Valdés added that "Barça has never had a midfielder or a player like him, for all he has given and the way he feels the club colours".
Messi concluded that "it's mad how many games he's played and let's hope he plays a whole lot more because he's good for us and the people". And Iniesta commented that "it has been a privilege to have been alongside him practically throughout my career, and I hope there's a lot more time for us to be together".
Sergio Busquets has no doubt about it. "He's an example for me and for all the players coming out of the youth system and trying to get into the first team".