Dani Alves on La Liga race: "This is going to be very special for the team that wins the title"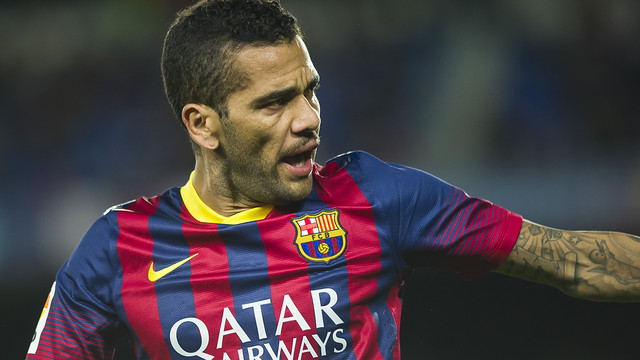 The Brazilian believes that the title race for La Liga will be decided in final match
After Barça's 3-0 victory over Málaga, Dani Alves sat down with Barça TV's El Marcador programme to talk about the Club and the team's form. "This league title will be very special for the team that wins it. It tastes better when you overcome something this difficult. This thing is between three teams now," said the FC Barcelona right back. He added: "I believe this will go down to the last match of the season." Barça last match of the 2013/14 La Liga season is against Atlético Madrid.
Alves didn't shy away from giving his opinion on Sandro Rosell's resignation. "We have to do our best to not allow ourselves to be destabilised," he said. "The structure and the project hasn't changed. Between all of us, we have to continue forward." The Brazilian went on to say that Neymar Jr "is doing well," but Dani Alves isn't happy about the ordeal: "The fact that his contract had to be shown to explain his signing is disrespectful."
When asked about the team's form, Alves said: "The key moments of the season are approaching – the best part of the year. It's really good news that players are starting to come back from injury." He added: "The thing that will allow us to win titles is our commitment and the desire to do our best when we play."
On a personal level, Dani Alves said that he's pleased that he's completely recovered from injury. "I'm doing well. I don't have any problems – I was hoping to start the new year with new energy. In order to do well in this team you have to be at a high level and work hard every day."