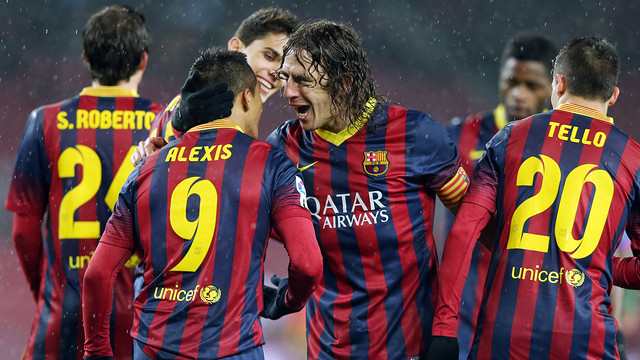 The central defender scored Barça's second goal in his 591st game in the first team
Alexis' goals take him up to 14, one less than he scored in the whole of his first season

Carles Puyol came back against Levante following his brief lay-off through injury. The central defender played the 90 minutes in his 591st offical match in a Barça shirt. He celebrated by scoring his sixth goal for the Club. It was over a year ago since the Captain last scored, on January 16 2013, in the Cup Quarter Finals first leg.
Here are some of the other interesting facts from the Barça 5-1 win against Levante:
Of the last 10 goals from Carles Puyol, 7 of them were from headers.
With Puyol's goal, 15 different players have now scored for Barça this season. Messi, with 18, is still top goalscorer.
The last 5-1 win at the Camp Nou was almost exactly a year ago. It came on January 27 2013, on Matchday 21 of La Liga, against Osasuna. The goalscorers that day were Messi (4) and Pedro.
Alexis's goals were his first in the Cup this season. The Chilean, who has scored 3 goals in his last 2 matches, now has 14 between League and Cup. Two seasons ago Alexis scored a total of 15 goals, in all competitions.
Against Levante Alexis scored twice for the eighth time (one of these games he scored a hat-trick). 7 of these games were at the Camp Nou.
Adriano also scored, and has now scored three goals this season, and a total of 13 goals in a Barça shirt.
Cesc Fàbregas scored the last goal, and his first in 2014. He's now scored 12 in 32 matches this season.
One of the other outstanding details from the match was the reappearance of Andrés Iniesta. Andrés, missing since his injury at the Vicente Calderon, played the whole of the first half.
The three goals that FC Barcelona have conceded at the start of 2014 have all been against Levante (one per game).
The final balance against Levante is impressive: 17 goals for and 3 against.
Sergi Roberto has now played in 17 consecutive games. The last game where he wasn't involved was in the 3-1 win against Milan in the Champions League group phase.
Alex Song picked up his first yellow card of the season against Levante. Xavi, Pedro, and Messi are the top players who haven't picked up any cards this season.
Song was the player accredited with most passes (133) of which the majority were succesful (124).
The last time Messi was on the bench and didn't get to play any minutes was the Barça v Bayern match last season.