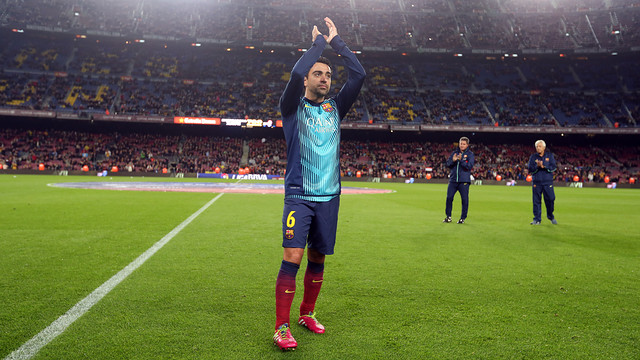 The Camp Nou faithful congratulated the player before the match against Málaga
FC Barcelona members and fans finally got to congratulate Xavi Hernández this Sunday for his record-breaking feat of playing 700 official matches for the first team. He became the player with the most games for FC Barcelona on January 16 in the Copa del Rey match against Getafe. Ten days later, and after two games away from home, the Camp Nou faithful were finally able to celebrate with the player.
After the pre-match warmup, the players and Xavi stayed on the pitch. Manel Vich, also known as the Speaker of the Camp Nou, had some special words for the vice-captain, who turned 34 years old on Saturday. A video, featuring Valdés, Puyol, Messi, Sergi Busquets and Iniesta, then played showing the player's best moments for FC Barcelona.