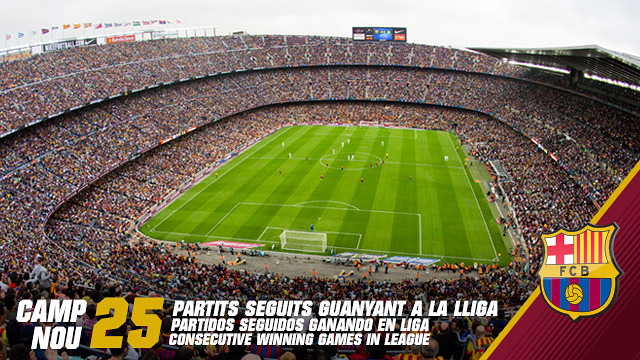 Barça won all their last 15 league games at the Camp Nou last season and this year they have done the same with the first 10 games of the campaign.
The all time record – set by Barça – is 39 straight home wins

It's been 15 months since Barça last dropped a league point at the Camp Nou – when Real Madrid drew 2-2 in week 7 of the 2012/13 season. Since then the team have won every single home match in the competition – a total of 25: 15 last season and 10 under Gerardo Martino so far this year.
3.48 goals a game
Barça have scored a total of 87 goals in those 25 wins – averaging an amazing 3.48 goals a game. Levante suffered the biggest defeat when they went down 7-0 at the start of this season, though curiously, the Valencia side are, along with Espanyol, also the only team to restrict Barça to a single goal, having lost 1-0 in week 32 last season (Espanyol lost by the same score in week 12 of this campaign).
In contrast, the team have conceded just 18 goals, at 0.72, less than a goal a game.
Record – 39 straight wins
FC Barcelona currently hold the record for a run of home wins in the Spanish League, having gone 39 matches without dropping a single point between week 22 of the 1957/58 season and week 8 of the 1960/61 campaign, when they chalked up 159 goals and conceded just 26.