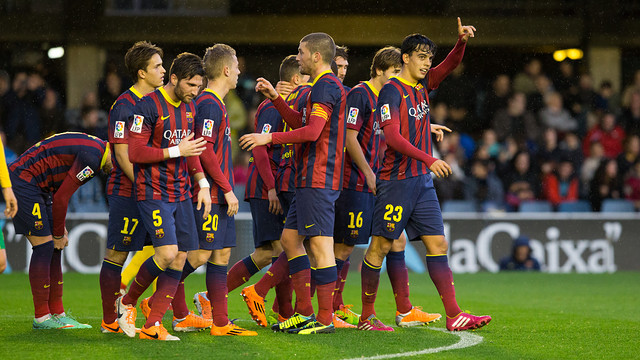 Barça B took the early lead thanks to a strike from Edu Bedia but Mirandés drew level two minutes later through Igor Martínez

MATCH FACTS
FC Barcelona B, 1
CD Mirandés, 1
FC Barcelona B: Ortolá, S. Gómez, Patric, Planas, Ilie, Babunski (Pol Calvet, min 83), Samper, Denis Suárez, D. Nieto (Joan Román, min 68), Edu Bedia and Adama.
CD Mirandés: Dani, J. Flaño, Koikili, César Caneda, Nagore, Muneta, A. Goiria (Iván, min 57), Pablo Infante, I. Martínez (Mújika, min 83), Álvaro Corral and Iriome (Díaz de Cerio, min 72).
Goals: 1-0, Bedia, min 25; 1-1, I. Martínez, min 27.

Referee: Arias López.
FC Barcelona B cruised in their previous league match but his weekend saw the Blaugrana draw against Mirandés. Barça took the lead thanks to a goal from Edu Bedia, but the visitors scored the equaliser two minutes later thanks to a strike from Igor Martínez. The second half wasn't as intense as the first and the heavy rain at the Miniestadi hampered both teams' attempts to win the game.
Focused on the task at hand
Eusebio Sacristán's men were singularly focused on their objective from the start of the match. Suaréz and Nieto nearly fired Barça ahead but Mirandés' keeper did well to keep the home team off the board. The visitors pressured high up the pitch, which made it difficult for Barça to set up plays from the back. It took Barça B 25 minutes to break through Mirandés' defensive lines. It happened with Bedia latches onto a rebound in the visitors' area and fired to the back of the net.
Mirandés strike back
Barça B's lead only lasted two minutes. Koikili found Igor Martínez in the area and the forward fired past Oier for the equaliser (1-1, min 27). Barça B surged forward after the goal, but they were unlucky in frot of Mirandés' goal.
Deadlock isn't broken in the second half
Barça B's dominance increased in the second half, but their hold on the match didn't translate into goals. The match came to an end with 1-1 on the scoreboard.