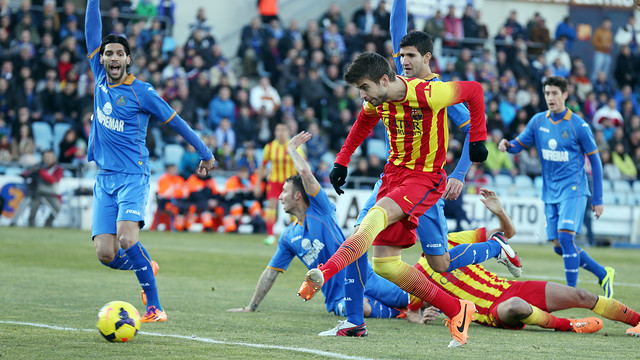 Piqué opens up about his experience at La Masia on Bleacher Report, Mundo Deportivo reports Zlatan Ibrahimovic's praises of Messi, and Sport recounts Henry's advice for Xavi
In this week's edition of the Azulgrana RoundUp: Bleacher Report publishes an exclusive interview with Gerard Piqué, Mundo Deportivo recounts Henry's advice for Barça's vice-captain Xavi Hernández, and Sport picks up Zlatan Ibrahimovic's words on Leo Messi.
Piqué talks about his time at La Masia
"I always enjoyed being a defender, but in the Barça sense of the position – defending, yes, but with the ability and technique to dictate play from the back and occasionally get involved in attack. I haven't changed in that respect," said Gerard Piqué in an exclusive interview with Bleacher Report.
He added: "I'm only 26, so I have plenty to improve on, and I'm working hard every day in training to achieve this. I am proud of having played a part in everything that Barça has achieved in recent years and of having played in every single minute of Spain's victorious World Cup 2010 and Euro 2012 campaigns."
Will Tidey, who interviewed the FC Barcelona defender, then asked what Piqué's experience was like growing up at La Masia. "FC Barcelona always had a clear philosophy about what their players had to do, both on and off the pitch," said the player. "Technique was, and still is, valued above everything else. It was hard work too – very competitive and demanding. As well as football, we learned the responsibility of schoolwork too. If you didn't make the grades at school you were out.
"I was up at 5 AM some days to finish my homework or prepare for exams. The same goes for anyone failing to act with the Club's general principles of respect, teamwork and humility. No matter how good you were, if you didn't follow the Club's moral code, you had no future at FC Barcelona," added Piqué.
The defender then went on to talk about what it was like coming up through the Club's ranks with the likes of Leo Messi and Cesc Fàbregas: "Barcelona has an amazing youth system with a clearly defined philosophy and a team of incredible professionals. But you can't deny that they also had the good fortune to come across an exceptional generation of players. From Puyol, Xavi, Iniesta, Valdés, through to my year – I played from 12 years old in the same team and Cesc and Messi – to Pedro, Busquets and right through to the guys who are now coming through like Montoya, Sergi Roberto, Tello and Bartra."
Read the interview in its entirety here.
Henry: "Xavi should retire at FC Barcelona"
During an event in the Catalan capital, former FC Barcelona player Thierry Henry weighed in on Xavi Hernández's future. According to Mundo Deportivo, the New York Red Bulls forward noted that the Barça midfielder "can do whatever he wants. He's done so much for the sport and for FC Barcelona. For me he should stay here, he should retire at Barça." The Frenchman added: "Xavi can play in the MLS, in France, in England, in my neighbourhood. I think he's an incredible player. People don't realise what Xavi has done on the football pitch."
Read the article in its entirety here.
Zlatan Ibrahimovic praises Leo Messi
Leo Messi's return to competitive play after nearly two months on the sidelines due to injury has certainly been eye opening. The Argentinian's performance in the Cup tie against Getafe in particular has caught the attention of fans and colleagues alike. PSG forward and former teammate Zlatan Ibrahimovic told ESPN that "Messi is extraordinary. He does things that can only be done on the Xbox." He added: "I saw his goals against Getafe and his second was magical. He's back and he's hungrier than ever. He's really fun to watch." The Swedish international's comments were picked up by the Catalan daily Sport.
Read the article in its entirey here.