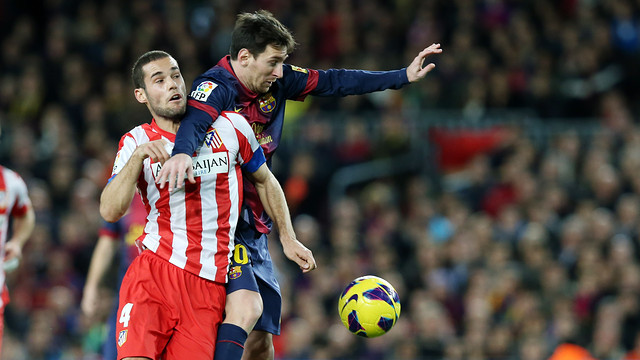 The last 20 years have brought us only three matches between Culés and Colchoneros in which Barça and Atlético were the top ranked teams in La Liga
In this particular situation, Atlético have the historic edge seeing that they won two of the three matches
Atlético Madrid and FC Barcelona. FC Barcelona and Atlético Madrid. In the last 20 years there have only been 3 occasions in which Barça and Atlético have played against each other while both teams occupied the top two spots of the table. This season Barça and Atlético are level on points, but the Blaugrana are on top due to their better goal average.
But what happened the last three times the two teams faced off while on the perch of the Spanish table? The stats are favourable to Atlético, but Tata Martino's men want to level the score this Saturday. The first time the two teams faced off was in the 1995/96 season. The Catalans came into the match at the Calderón with 32 points, one less than the Colchoneros. Cryuff's men lost by 3 to 1, which gave Atlético a four-point advantage.
The second time they faced off was in the second half of the same season. Barça hosted Atlético at the Camp Nou and only three points separated the two teams. Atlético had 74 points and Barça 71. A victory for the Blaugrana would have brought them level… but it wasn't meant to be: Atlético won 1-3 at the Camp Nou and they took a six-point advantage at the top of the table.
Victory in the third
Fast forward 17 years to the 2012/13 season, when Barça, league leaders on 43 points, hosted Diego Simeone's men (37 points) for round 16 of La Liga. Barça won 4-1, and Tito Vilanova's team took a nine-point advantage over their most immediate perusers. The Blaugrana went on to win the title after securing a record-breaking haul of 100 points.