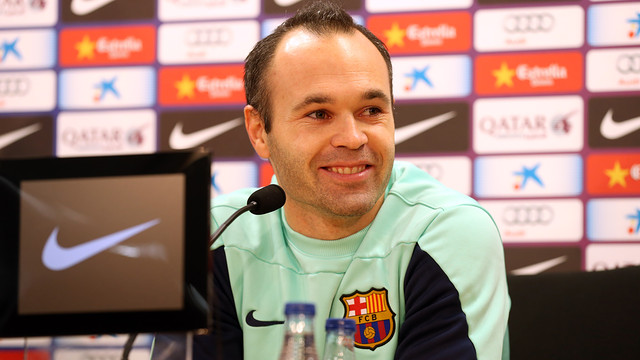 "When you have a chance of reaching the top, you have to fight hard", commented the midfielder
Iniesta also said that Messi's return "is one of the best pieces of news of the day"
Andrés Iniesta knows that if they do their job right, Barça have every chance of winning all of the major trophies this season. "A good new year for us means winning everything" said the midfielder in Thursday's press conference, "when you have the chance to reach the top, you have to fight hard, and that's the kind of ambition that we hope will take us into April and May in contention … The team is playing well, and we need to grow from here. The squad is good enough to carry on winning".
It is Iniesta's personal opinion that "if the team functions, it's easy for each player to feel comfortable, so this year we need to keep training and playing well … I want to keep improving as a player, that's what makes me happy."[[CITA_1]]
Against Elche on Sunday at the Camp Nou a (16.00), Barça begin what is always a busy month of January, with league games at the weekend and cup games midweek. But Iniesta reckons "the team is in very good shape and feeling very positive indeed … We need to carry on as we ended last year. They key is not think any further beyond our upcoming match, first we should worry about the weekend fixture and then change the chip and start thinking about the cup".
But there is one game that everyone is talking about. Atlético Madrid v FC Barcelona is on Saturday, January 11. "It'll be an intense match because of the opponent and the venue, but I don't think it'll be definitive as there's still a long way to go" said Iniesta. "But we are looking forward to playing that game and getting three points there".
Messi back
Leo Messi is due back this afternoon after a month in Argentina recovering from injury. Iniesta feels that "this is one of the best pieces of news of the day, we all know how much weight he carries in this team". Barça have still managed to get results despite missing their biggest star, but Iniesta still feels that his return "will make us stronger. Messi is the number one and when you've got a player as good as him in your side, everything is that much easier." Adding that he has been in contact with his team-mate during his absence, asking how he is feeling, Iniesta continued by saying that Messi's return "is great news for him, because he's at his happiest when he's playing, but it's also great news for the team and the supporters".
Iniesta is also pleased to welcome back his colleague and close friend Víctor Valdés. "It hasn't been an easy time" he concluded. "A month is a long time but what matters is that he is just the same as ever. For me, he's the number one, and he still has time to enjoy that".
Vull seguir creixent com a jugador, que és el que em fa feliç