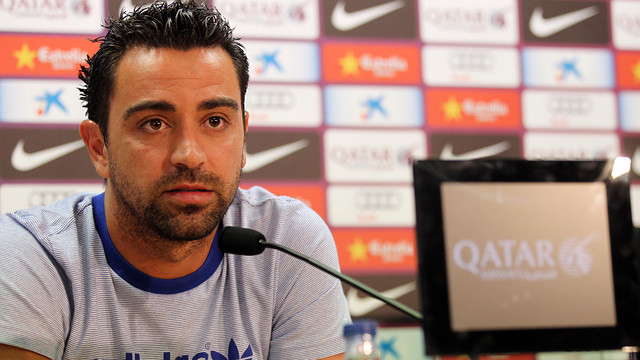 The FC Barcelona midfielder was full of praise for his team-mate at a conference in Dubai
He also spoke of his years in the FCB academy and what he learned while he was there
On Sunday, Xavi Hernández was in Dubai to collect the Career Award at the eighth edition of the 'International Sports Conference' and Globe Soccer Awards. He was full of praise for his colleague Leo Messi and also described how the team coped with the shock of Tito Vilanova resigning through illness during the summer.
Simply the best
Xavi was asked about Messi and this year's FIFA Ballon d'Or, and replied that "Cristiano Ronaldo and Ribéry have both done a lot to deserve the Ballon d'Or, but for me the best player in the world, and already the best ever, is Messi, without a shadow of doubt". He was not eligible to vote for the award, but was convinced who he'd have voted for if he could.
He also spoke about the difficult situation regarding former manager Tito Vilanova last summer. "His illness was a major handicap and we had to group together more" he said. "And we also have to remember what the auxiliary staff did. We all united at that time and despite the setback, we went on to have an extraordinary season."
On the possibility of a reencounter with Bayern in the Champions League, he said that "if we do meet again, I hope we are more competitive than we were last year".
Xavi also mentioned la Masia, saying that "I am a pupil of that school, where they teach you to compete and also teach you values. They teach you much more than just football. They teach you how to respect and that is a more important value than learning to win".